Doubletalk: Geeksphone Revolution dual-OS smartphone
Android or Firefox OS? The choice is yours
---
Making progress
Now since it first appeared, FireFox OS has steadily improved, but not by what I'd call leaps and bounds. Download Firefox OS onto the Revolution, and you get v1.3. As I type, version 1.4 should be along soon but that will only represent a small update. For a major step forward – including a massive overhaul of the UI design and the implementation of cut and paste – you'll need to wait for v2.0, which is still some months away.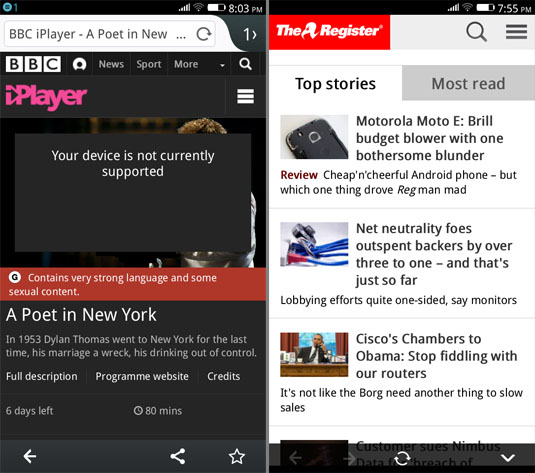 Firefox OS web browser is pretty good but does have limitations (left). Firefox OS HTML5 El Reg web app (right)
Being a hardware review, this is no place for a forensic dissection of Firefox OS, suffice to say that using HTML5 applications rather than native code does feel like you've stepped back in time a few years. You can forget using services like Instagram or Snapchat or integrating your device's storage with DropBox or Box or chatting via Skype or WhatsApp. Or indeed playing the latest mobile games. In fact, it all feels and looks just a bit iOS-circa 2008.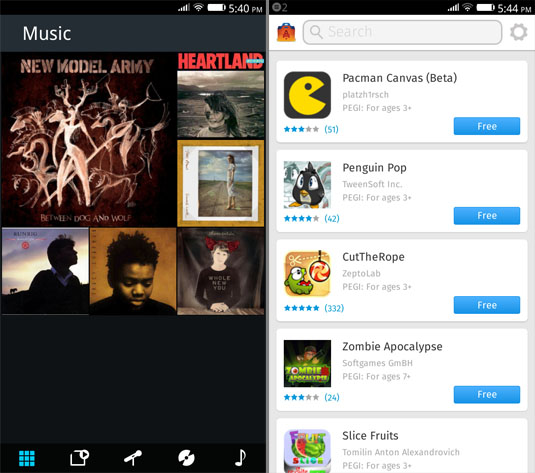 Firefox music player simple but effective, the games selection in Firefox not great though
Firefox OS does have the basics covered though. The messaging and email apps perform well and there are official HTML5 apps for Facebook, Twitter and Nokia's Here Maps in the Marketplace. Given who makes the OS, unsurprisingly, the web browser is impressively efficient.
If all you want are the core essentials of the smartphone experience, Firefox OS should serve you well – just don't go expecting a genuine competitor to the more app-driven mobile operating systems like Android, iOS or Windows Phone.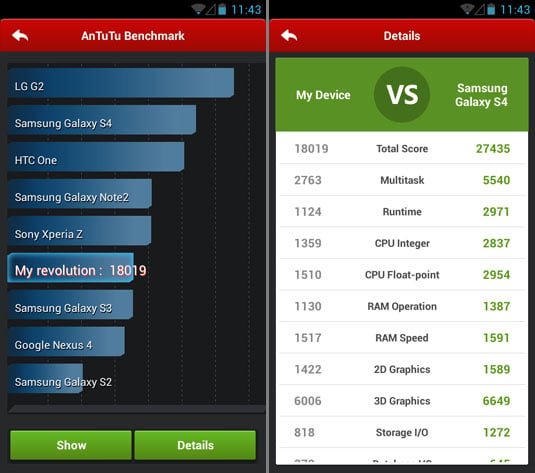 The AnTuTu score is not bad for the money
It's a testament to how far Android has come on that there is little difference in the Revolution's power consumption when running Firefox OS or Android. With either OS in charge you will get around 7 hours of video playback (tested using a 720p MP4 file) and between 24 and 36 hours of general usage though, of course, that depends on what your idea of "general usage" involves.
Power consumption aside, Firefox OS is still clearly in need of some optimisation because the UI just isn't as slick as it is under Android. The Revolution is an impressively fluid and useable device running Google's mobile OS, and doubtless will be even more so with KitKat installed, but it feels just a little stodgy when running Mozilla's offspring. Here's hoping Mozilla gets that sorted with v2.0.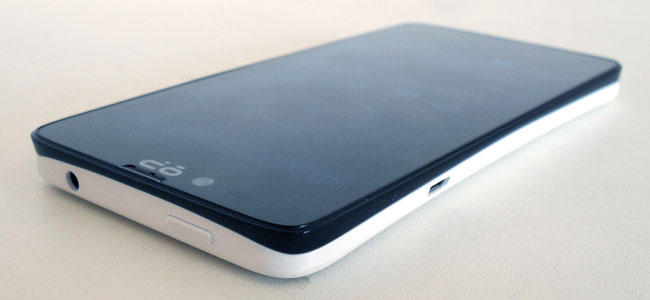 A Revolution in your pocket?
The Reg Verdict
The word I'd use to describe the Revolution is: interesting. For your money you get a perfectly decent mid-range smartphone that packs the rather rare combination of a removable battery and a memory card slot, albeit lacking 4G connectivity. The real attraction is its ability to swap between Firefox OS and Android (and soon CyanogenMod) with relative ease. You also have the option to not instal any of Google's own apps under Android.
Right now, in my book at least, Firefox OS is not reason enough to buy the Revolution but that may change when v2.0 of the operating system arrives later in the summer. As it stands, for £170 the Revolution is a decent device that's far more open to the casual under-the-hood tinkerer than any of the competition. Indeed, for that reason alone it deserves its place in the market. ®
Doubletalk: Geeksphone Revolution dual-OS smartphone
Pre-rooted Android and Firefox OS handset with a 4.7in display, dual-core 1.6GHz Intel Atom processor, 4GB internal storage and micro SD expansion.