Samsung's 'OS of Everything' Tizen still has little to offer
Much talk yet few devices at this year's Tizen dev conference
---
Analysis The first smartphone running the Linux-based Tizen OS is here, even if it will likely be a long time before most of us can get our hands on it. But forget about phones – Tizen is also about cars, TVs, home automation, wearables, and more.
At least, that was the message put forth at the third annual Tizen Developer Conference in San Francisco this week, where the Samsung-backed project has been rechristened "the OS of Everything."
The plan now is to hitch Tizen – which has struggled to gain a foothold, or even a foot in the door, of the smartphone market – to that latest buzzword du jour, the Internet of Things.
"So far, we've created three profiles for mobile, wearables, and cars," said Intel's Imad Sousou, co-chair of the Tizen Steering Group, during Tuesday morning's keynote. "Over the next few months we are working on creating another three profiles for TVs, cameras, and home appliances."
Mark Bryan, executive director of product marketing for home automation vendor iControl, was particularly effusive during his TDC talk. "[Tizen] is the platform that is going to take the Internet of Things from where it is today, which is just in the early adopters, and change the way that the mass market – that the world, humanity – behaves," he said. "It's going to change the way that they live their lives."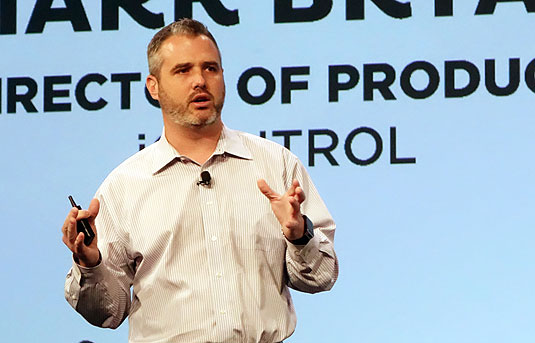 iControl exec Mark Bryan thinks Tizen is going to change your life
Tizen's thingification will be supported by the forthcoming version 3.0, which will introduce variants of the OS for new classes of devices while uniting its various flavors under a single, common code base that will be shared by all.
But just who will make these purportedly revolutionary devices remains to be seen.
So far, Samsung, which has invested heavily in Tizen as an alternative to Google's Android, is the only vendor to produce consumer electronics based on the OS, despite it being hailed as an open platform that's developed under the auspices of the Linux Foundation.
The Korean firm's first Tizen-based products were a line of "smart cameras," which even it admits aren't the best showcase for the platform's potential.
"Although [the cameras] are Tizen products, they don't get the full support from the SDK," Samsung executive VP Jong-Deok "JD" Choi said on Tuesday. "The honor to be the first fully Tizen-compliant devices, with full support from the Tizen ecosystem and SDK, goes to these two devices: Samsung Gear 2 and Samsung Gear 2 Neo."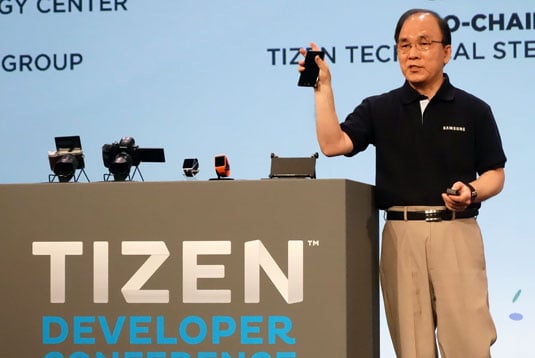 THEY'RE REAL! Samsung's Jong-Deok Choi shows off the few Tizen devices on the market now
Those would be the chaebol's latest smartwatches, for which Choi said there are already "many" applications available in the Samsung Gear app store.
Samsung also showed a 64" Tizen-based curved-screen smart TV at the show, albeit a prototype. "Unfortunately, this TV is not on the market yet," Choi said. "But read my lips, they will be on the market very soon."
Intel, too, is keen on Tizen, particularly in the area of in-vehicle "infotainment" (IVI) systems. This year's conference saw not just one but two demo cars on display featuring Tizen-based onboard electronics. Chipzilla says lots of auto-makers are super-keen on its kit and therefore on Tizen, too.
And then there's that smartphone. Tizen enthusiasts have waited years for an actual handset running the OS, but until now, Samsung has offered nothing but developer reference kit. When it finally did launch the Samsung Z, it oddly chose to do it on Monday, the day before the Tizen Developer Conference kicked off.
Similar topics
Narrower topics