This article is more than 1 year old
Happy Birthday Tetris: It's flipping 30
Soviet bloc blockbuster
Antique Code Show Forget the oil, forget the gas – even forget the aggressive foreign policy. The commodity that granted Russia its modern day super-wealth is clearly Tetris, which clocks up its 30th birthday today.
Poor old beardie Alexey Pajitnov – the title's original designer and programmer – bashed out his first attempt on a Soviet Electronica 60 computer at the Russian Academy of Sciences, buried behind the Cold War communist curtain of 1984.
The following year, industrious 16 year-old student Vadim Gerasimov ported Tetris to the PC and, alongside Pajitnov, worked towards the final pre-commercial release. Friends outside of the academy were given copies and within a couple of weeks Tetris had spread to every computer across Moscow.
Yet Pajitnov, who'd spent many, many days perfecting his code – and allegedly smoked an inordinate number of cigarettes throughout the process – had to wait 10 full years before the Russian government would finally relinquish the game's intellectual property back to him.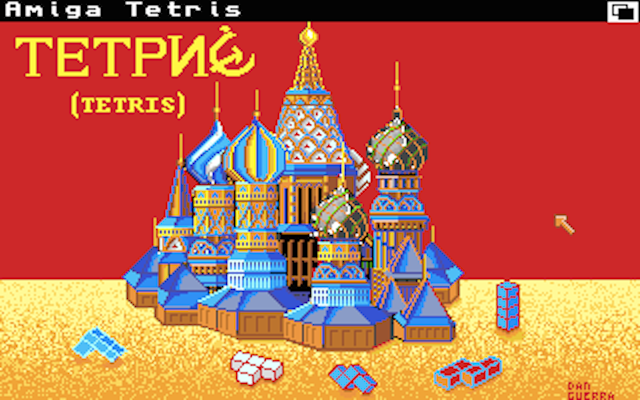 Transliterated titles were a popular way to communicate the foreign origin
Well, if only the history of Tetris was as simple as that; it's actually one of the most legally disputed videogames in existence. If Russia had been quicker to act, events may have been more straightforward.
However, it took until 1988 for the USSR to figure out exactly what videogame gold-dust it had on its hands. Consequently, a state-owned company called Elektronorgtechnica (ELORG for short) was established to negotiate publishing rights to third parties.
In the crucial few years beforehand, intrepid software houses scrabbled around Moscow attempting to gain an elusive, watertight third-party licence, planting the seed for what would become a huge mess of legal wrangling. Robert Stein, of British software house Andromeda, spotted the title's potential after seeing unofficial ports to the Apple II and Commodore 64 in Hungary.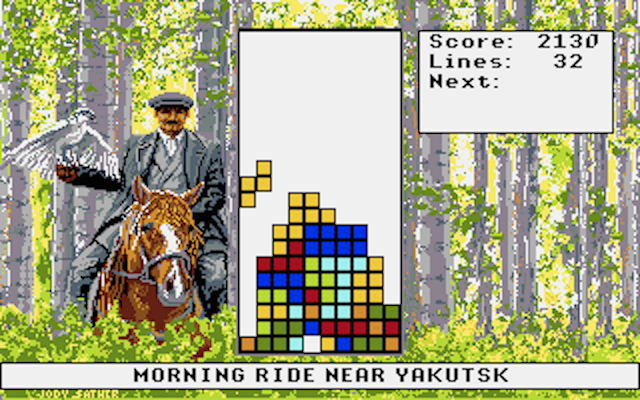 Another typically Russian scene on the Apple IIgs
The agreement he attempted to make with Pajitnov himself led to a botched contract and subsequent miss-selling of rights to, amongst others, Robert Maxwell's Mirrorsoft game publishing house, and its American equivalent, Spectrum Holobyte. These twin companies went on to release separate versions of the game, such was the fever to get Tetris out there.