This article is more than 1 year old
Canon offers a cloud just for still photos, not anything else. Weird
If you have only a camera and a desktop computer, this is for you
Japanese camera and printer behemoth Canon has started up a cloud photo storage service called irista.
We wrote about the service's pre-beta instantiation here. You can upload any size photo file, within the limits of your capacity entitlement obviously. You don't get any editing tools and only stills are supported, not videos, but video support may come in the future. Ditto editing, we're told.
Canon calls it "an advanced, cloud-based image management platform that allows users to access, enjoy and manage their photo libraries like never before."
It's meant to unify scattered digital photo libraries across multiple devices and make finding photos easy. They can also be shared on Facebook and Flickr, "and keep track of likes and comments".
Canon says "The filetypes we support are JPEG and RAW. RAW formats supported are from Canon, Nikon, Olympus, Sony, Panasonic and Samsung."
That's nice and open. Photos get uploaded using free uploader apps for Windows or Mac OS desktops and notebooks.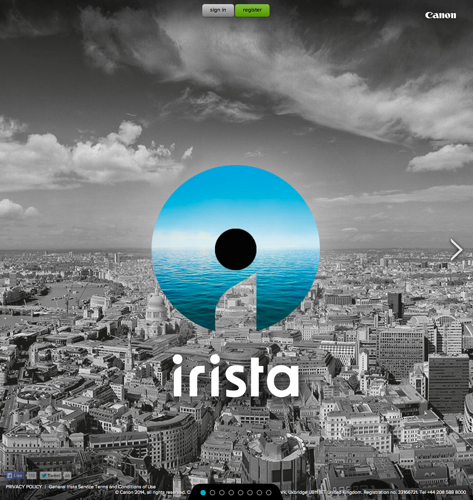 Canon's irista home page
Irista's free option offers up to 10GB of cloud storage capacity for photos, 4 filters and associated social sharing and organisation tools. A VALUE option costs £4.90/month for up to 50GB and the filters and organisation tools. PREMIUM is £10.99/month and you get 100GB of storage, all the tools and the option of add-on storage when you need more space.
The VALUE and PREMIUM options are for advanced enthusiasts or professional users, according to Canon. The free version of Irista can be used by anybody. Paid for services are for European residents only.
How does this compare to competing photo cloud storage services which, by the way, are generic and not restricted to photo content?
Dropbox: 2GB free, 100GB for $9.99/month,
Box: 10GB free and paid-for options for group use and more storage; business focus,
Flickr: 1,000GB free with photos uploaded from smartphones.
Google Drive: 15GB free.
Okay, having a dedicated online digital photo library sounds good but Canon's marketing blurb says Irista is "A single place for people to interact with their images, enhance their photography skills and get the most out of their pictures." Also it's "Built using Canon's unrivalled heritage and imaging expertise," like, really. This is way over the top for a relatively simple cloud photo store.
Our take is that Irista's paid-for options are over-priced and need photo editing tools to justify this. Uploads from smartphones would be a good idea too.
We signed up and checked it out, but the initial photo upload took an age and we got bored waiting. Have a go yourself and see if your experience is any better. Check out the FAQ for more info. ®