Geologists have identified what they say is a new class of rock.
'Plastiglomerates', as the new rocks are called, form when plastic debris washes up on beaches, breaks down into small pieces, becomes mixed in sand or sticks to other rocks and solidifies into an agglomerate mixing all of the above. Such rocks, say US and Canadian boffins in a paper titled An anthropogenic marker horizon in the future rock record, have "great potential to form a marker horizon of human pollution, signalling the occurrence of the informal Anthropocene epoch."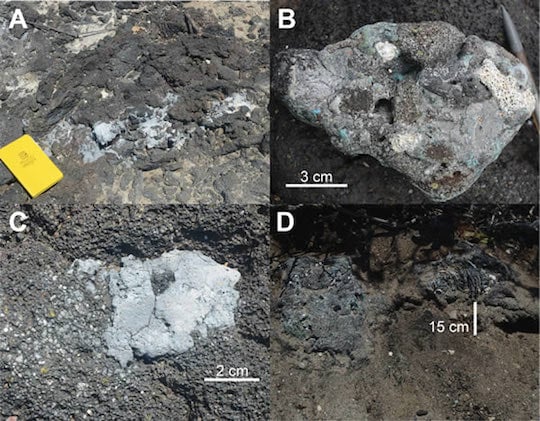 The three types of plastiglomerate and an example of the stuff on a rocks shelf (D)
The paper identifies four types of plastiglomerate, namely:
A: In situ plastiglomerate wherein molten plastic is adhered to the surface of a basalt flow

B: Clastic plastiglomerate containing molten plastic and basalt and coral fragments

C: Plastic amygdales in a basalt flow
About a fifth of plastiglomerates consist of "fishing-related debris" such as "netting, ropes, nylon fishing line, as well as remnants of oyster spacer tubes". "Confetti", the "embrittled remains of intact products, such as containers" is also very prevalent, but whole containers and lids are also found in plastiglomerates.
The paper explains that the plastiglomerates studied come mainly from a single Hawaiian beach that, thanks to local currents, collects an unusual amount of plastic. But the authors also note that as some samples were formed when trapped within organic material, while others were the result of plastic being melted onto rock, plastiglomerates can pop up anywhere. ®