This article is more than 1 year old
Look inside ELON MUSK'S CAR! Tesla S wundervehicle has voom
Tech titan tells Vulture: Google is to be *cough* applauded
The Model S isn't the car Tesla wants to sell. At an event in London over the weekend when the company handed over the first right-hand drive to UK customers – including mummy-pr0n purveyor EL "50 Shades of Grey" James – SpaceX bigwig Elon Musk said the car was "more expensive than we would like", and that he would like to thank the initial customers for taking a risk on a new product.
Musk said he thinks the UK could be the best market in Europe for Tesla cars, and perhaps the third biggest in the world.
Musk told reporters he plans to establish an R&D centre, probably in the West Midlands, which will employ 200 people and says that a lot of the designers in the Californian office are British. (Exporting Brits to California to work is something The Reg does too.)
Following on from the UK R&D, Musk wants to build a factory here, although that will probably be preceded by the erection of a facility in mainland Europe. Just where the things are constructed will be dictated by where the customer demand is. Currently that's Germany and Norway but with an aspiration to build half a million cars a year, Musk wants lots of factories in the US, China and Europe.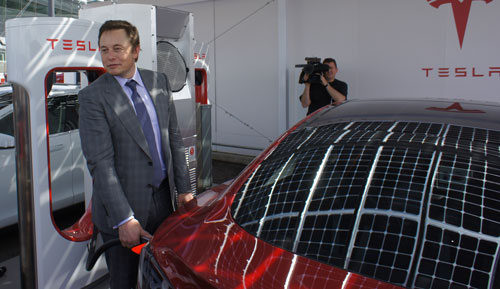 Overcharging? That'll be because electric cars are expensive
We'll see national UK coverage of Tesla Superchargers by the end of next year, insists Musk, a project that the tech titan says will cost tens of millions of dollars.
The 125kW Superchargers work much more rapidly than the existing charging infrastructure for electric cars. While it takes seven hours to charge a Nissan Leaf or Citroën C-Zero on the three-pin plug systems they use, a Tesla S will charge from empty to full in an hour with a Supercharger. Drivers can find which chargers are available – and many of the charger bays have eight or 12 spaces – from a phone app and remotely monitor the state of charge of their charging car while waiting.
Musk says that Tesla is happy to open up the charging network to rival electric car manufacturers with provisos that their cars can cope with the rapid rate of charge and that they agree to the business model of charging the manufacturer a per-user fee based on usage rather than charging drivers for usage.
Musk says that using superchargers will be free for Tesla owners forever. He can do this because the cost is all in the infrastructure, the actual cost of the electricity isn't that great and it's far better to build it into the price of the car. Having a site where a well-heeled customer is obliged to wait around for a charge is attractive to a lot of retailers and Musk says that Tesla rarely pays for the space where it puts in Superchargers and sometimes gets paid for doing so.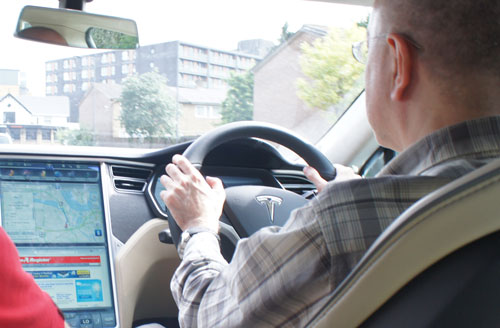 Using El Reg for navigation? It wouldn't be the first time commentards told Reg's own mobile hack Simon Rockman to get lost.
Despite admitting to having "zero" insight into the demographics of British Tesla customers, Musk claims that London will be one of the "easiest cities in the world" to drive a Tesla. He's targeting this city because there is no pay-as-you-go electric car scheme here, but such a project is planned by IER, which is hoping to install a sort of "Boris Bikes for electric cars" infrastructure off the back of its winning a contract to run the charge points for city-wide electric vehicle charging network Source London.
Musk told a press conference that he's more or less wedded to lithium ion, and that Li–S (lithium–sulphur) batteries do not have the current power density of Li-Ion. He told the press that he is regularly approached by people with battery technologies but they never meet their promised performance. He's said he was open to other technologies but has yet to find anything that challenges the status quo.
Have you driven a Tesla lately?
The car Musk wants to build is the third generation model. This was known as "Model E" until Ford threatened to sue and so the car doesn't currently have a name. The first generation was the Tesla Roadster, of which there are 51 in the UK. The Roadster was a carbon-fibre body sports car made by Lotus in the same factory as the Lotus Elise but which Tesla always claimed was completely different.
The second generation is the Model S and its cool mini-van sibling the Model X. This goes on sale in California Q2 next year and will reach the UK next summer, but there is an 18-month waiting list.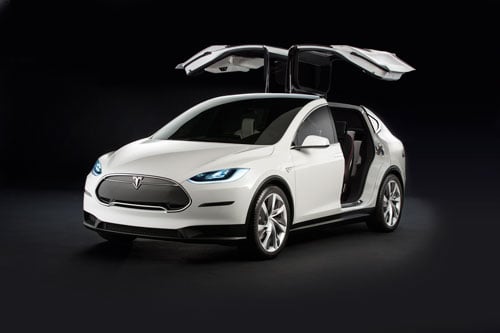 Tesla X. Looks cool, but try doing that in a car park.
Musk said the third generation car he envisions is about three years away and should cost around $35,000. This will be a smaller car than the Tesla S, moving down from competing with BMW 5 series to 3 Series.
One direction Tesla does not wish to go is that of self-driving cars, according to Musk. When The Reg asked the tech billonaire what he thought of the Google announcement, he told us: "Google is to be applauded," quickly adding, "We will probably take a different approach." ®