This article is more than 1 year old
HP unveils enlarged 460TB 7450 all-flash array
Embiggened SSDs with added deduplication
HP has added deduplication to its 3PAR 7450 all-flash arrays.
That means Hewlett-Packard – keen to not waste a byte, and provide deduplication for 3PAR file operations – is now at last able to reclaim duplicated bytes of information from chunks of 3PAR block storage. It calls this Thin Deduplication.
Dedupe is just for the all-flash 7450, not for the other disk-based models in the 3PAR product range. HP is using hardware acceleration to provide in-line deduplication as data lands on the 7450, and quotes an up-to 4:1 data reduction ratio.
It's also adding thin cloning and new SSDs, using what it calls commercial-grade MLC flash; 'not eMLC' is our takeaway from that. The SSDs each have an effective capacity of up to 1.92TB, which seems odd; we'd expect 2TB.
HP provides the flash drives so it can use its endurance-enhancing Adaptive Sparing technology; this means its SSD suppliers don't have to over-provision the capacity of the flash in the drives quite so much – chip makers tend to include a bit of reserved capacity that lie dormant until they're needed to replace worn-out cells. This hidden storage is reclaimed by Adaptive Sparing.
HP says it "collaborated with SSD suppliers to extend usable capacity per drive up to 20 per cent by reducing the amount of over-provisioned capacity typically reserved by media suppliers".
The drives actually have 1.6TB of raw flash capacity but, using this aforementioned technology, HP says it can recover some of the over-provisioned storage – so the effective capacity of the 7450 SSDs is up to 1.92TB. Note the "up to" in HP's statement; a cue for lots of fierce examination of Megsco's capacity uplifting claims by competing suppliers.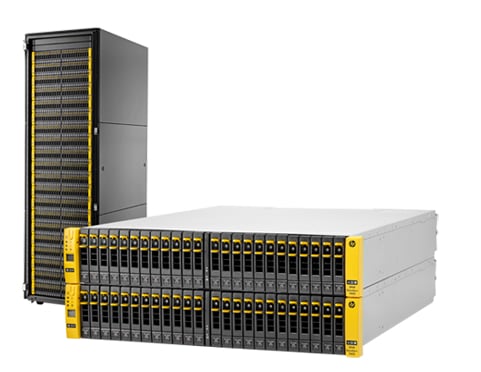 HP StoreServ 3PAR 7450
Megsco also claims it can offer more capacity through an Express Indexing technology, which enables up to 460TB of raw capacity in the 7450, using 1.92TB drives we suppose, and more than 1.3PB of effective capacity, "six times that of typical raw and usable capacities provided on first-generation all-flash systems". This is calculated from "460TB raw, with 25 per cent overhead, and 4:1 compaction (subject to variation depending on workloads)", according to HP.
Pure Storage's high-end FA-450 all-flash array offers a max of 70TB raw (250TB effective), so HP offers about five or six times that. Tegile, for comparison, claims a 1.68PB effective capacity for its T3800. Be aware there is no industry-standard measure of effective capacity, and mileage (the data reduction ratio in this case) will vary with workload. We're seeing a fight here between scale-up and scale-out approaches.
Moving on, HP is guaranteeing six nines of availability for the all-flash 7450; 99.9999 per cent uptime, meaning less than 31.5 seconds of downtime per year – not enough time for a cig break – and a 5-year warranty of the SSDs. It says the 7450 can now replace enterprise-class arrays like EMC's VMAX in terms of scale, reliability, and data management features, and because it has more predictable latency than hybrid flash-disk arrays.
HP says its new all-flash box costs the same as an all-disk system at $2 per GB, so it can compete for VMAX business. And, we would infer, IBM DS8000 and HDS VSP array business, meaning, effectively, HP's own XP7 which is built from Hitachi's VSP G1000.
That claimed $2-per-GB figure undercuts Pure's $3 to $4 per usable GB cost. Meanwhile, Tegile reckons it has now descended even lower with its all-flash T3800 having a street price of $1 per effective GB.
The 3PAR StoreServ with a six-nines guarantee is available now, and requires a four-controller StoreServ system to be applicable. The 1.92TB SSDs should be available in July and cost $14,315 each. That's $7.46 per effective GB of storage, a long way north of the claimed $2 per GB attainable through data reduction – so you better be certain of the data reduction ratio you're going to get before splashing out.
Thin Deduplication and Thin Cloning will come with a new release of the 3PAR Operating System Software Suite in September. ®