Vid
NASA has pulled off an impressive bit of space data transfer by beaming a 175 meg hi-def video from the International Space Station to the ground via laser.
The Optical Payload for Lasercomm Science (OPALS) experiment used a 2.5W 1,550nm laser to beam the vid earthwards in just 3.5 seconds, a feat which "would have taken more than 10 minutes using traditional downlink methods".
With the ISS travelling at around 28,000km/h, NASA describes the hook-up as "equivalent to a person aiming a laser pointer at the end of a human hair 30 feet away and keeping it there while walking".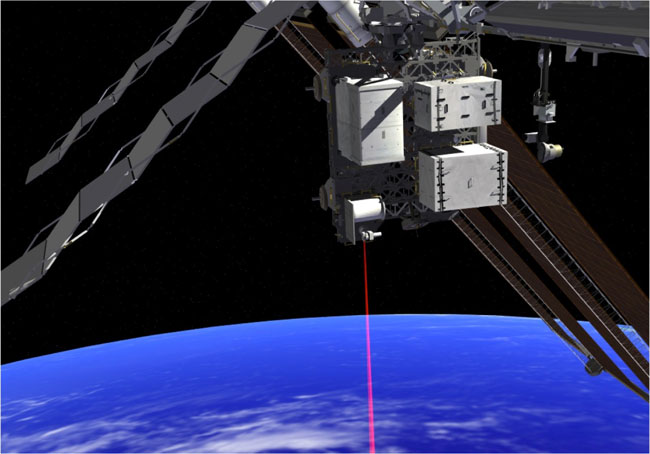 Artist's impression of OPALS firing video earthwards. Pic: NASA
The system's receiver is a one-metre telescope at the Optical Communications Telescope Laboratory (OCTL) in Wrightwood, California. NASA summarises: "As the ISS travels across the sky, a laser beacon will be transmitted from the ground telescope to our payload and tracked. While maintaining lock on the uplink beacon using a closed loop control system and a two-axis gimbal, the OPALS flight system will downlink a modulated laser beam with a formatted video."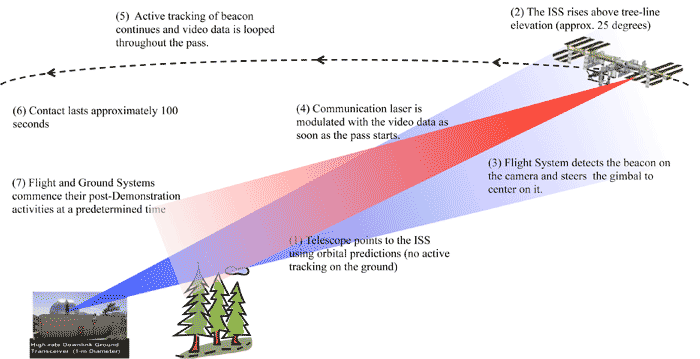 To keep the ISS in its sights, the OCTL 'scope relies on orbital prediction of the station's path across the heavens, rather than active tracking.
The received beam is focused onto a photo detector, which "converts the optical signal to baseband electrical current". NASA elaborates: "After necessary digitization, synchronization, error-correction and post-processing, the video file is displayed on a monitor."
During last week's test, the total transmission time was 148 seconds, with "a maximum data rate of 50 megabits per second".
Matt Abrahamson, OPALS mission manager at NASA's Jet Propulsion Laboratory, enthused: "It's incredible to see this magnificent beam of light arriving from our tiny payload on the space station."
NASA describes the success as "an important step in improving communication rates with spacecraft beyond low-Earth orbit". It adds: "The instrument allows for communications rates to keep pace with the ever-increasing data generation produced by scientific instruments. The capability could replace the Federally-regulated radio frequencies currently in use from orbit to meet the needs anticipated by researchers for future missions, like Mars." ®