Netflix agrees to end network warnings in Verizon slowdown spat
Says carrier's speeds are still among the worst, though
---
Netflix is backing down in its battle with Verizon over the speed of its streaming video service on the carrier's network, albeit just a little.
A Monday post to the Netflix US and Canada blog said that the company will stop issuing users error messages blaming carriers for slow performance, saying the notifications were part of an experiment to introduce greater "transparency."
"As part of this transparency campaign, we started a small scale test in early May that lets consumers know, while they're watching Netflix, that their experience is degraded due to a lack of capacity into their broadband provider's network," the company said. "We are testing this across the U.S. wherever there is significant and persistent network congestion. This test is scheduled to end on June 16."
The announcement comes just days after Netflix found itself facing the ire of Verizon's legal team when the carrier discovered that the video service was informing Verizon subscribers that problems in video performance were the ISP's fault.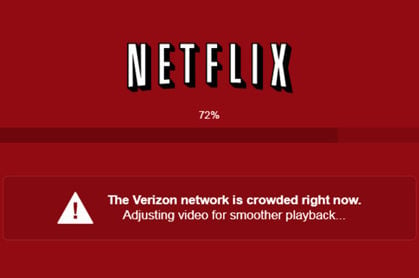 Netflix knows whose network you're on, and it thinks it's too slow
The telco issued a cease and desist order demanding that Netflix stop presenting Verizon customers with "the Verizon network is crowded right now" messages and provide evidence that Verizon was to blame for the slowdowns.
In the letter, which was both released publicly and delivered to Netflix counsel, Verizon lawyers suggest that the Netflix traffic issues are the fault of the video service and its network of third-party providers, which experience slowdowns before data ever reaches the ISP.
Netflix indirectly responded to the claims by posting its latest US Speed Index, ranking service providers by average speed. The index ranks Verizon's DSL service last among the 16 US providers with an average speed of 1.05 Mb/sec. Verizon FiOS ranked tenth with a 1.90 Mb/sec average, while Cablevision was tops with a 3.03Mb/sec average rate.
Netflix also objected to the notion that its delivery network was causing slowdowns, shifting blame to the "last mile" networks of ISPs.
"We pay some of the world's largest transit networks to deliver Netflix video right to the front door of an ISP," the company said. "Where the problem occurs is at that door – the interconnection point – when the broadband provider hasn't provided enough capacity to accommodate the traffic their customer requested."
Meanwhile, Netflix continues to simultaneously work to roll out direct interconnect deals with Verizon and other ISPs while also lobbying for the shutdown of such "fast lane" agreements by way of net neutrality provisions. ®