This article is more than 1 year old
Smart TV boffins hit the Red Button, trigger mayhem
Nothing safe as drones target credit cards, Facebook, Twitter, printers, warn security brains
The standards body behind a broadband-powered television system has downplayed talk of dramatic attacks on the security of tens of thousands of smart TVs.
Top boffins at Columbia University's Network Security Lab say the "Red Button" exploit could involve drones and roof-mounted aerials deployed to silently target tellies, commandeer TV networks, and even dive deeper to infect home printers and PCs.
The attack basically works by feeding malicious JavaScript payloads into television sets over the air; the code can then silently hijack connections to websites from the device.
This is said to be well within the reach of an average cyber-miscreant, and demonstrated alarming insecurities within the Hybrid Broadcast Broadband TV (HbbTV) standard, the Columbia researchers say.
HbbTV is a boon for targeted advertising as it fuses together broadcast television with online content purchases to deliver catch-up TV, integrated purchasing and video on-demand.
The researchers found the attack vectors grew the more features a viewer had activated on their smart TVs and seemed limited only by the criminal imagination. Hackers could begin spamming Facebook friends and Twitter followers if those services were logged in, and even generate fake messages to phish for credit-card numbers.
Commandeered smart TVs could be made to purchase DRM-protected content or dial premium-rate phone numbers from VoIP apps, sending profits to attackers.
"People are sitting at home watching their TV and all of a sudden something starts flying up in the air - it's a drone [which] starts sending reviews to Yelp without them knowing and spam to their friends - their printer starts printing coupons," Columbia Uni boffin Yossi Oren told Forbes.
"And 12 minutes later it all stops ... and nobody can find who did this."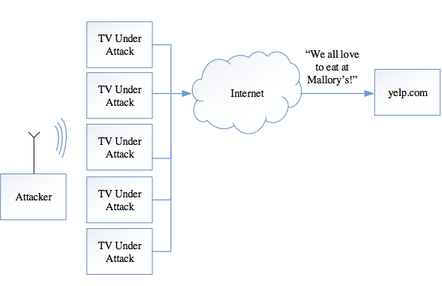 A Red Button attack vector - Click to enlarge
Anyone with the skills to program a smart TV channel could purchase open-source hardware to launch the "untraceable" attacks which worked as long as consumers kept their boxes switched on.
The potential damage would increase if the threat remained unchecked, the researchers wrote in their hefty boffinry report, titled From the Aether to the Ethernet – Attacking the Internet using Broadcast Digital Television [PDF].
"As the usage scenarios of smart TVs grow and users begin using them for more applications such as ecommerce and health, the damage potential of this attack will grow rapidly," the boffins write.
Attackers could run port scans to target vulnerable devices connected to a smart TV over a home network. The paper cited an example where attackers via a vulnerable router modified DNS settings to direct PCs to phishing websites.
"This attack, which has been investigated in other works [PDF], is particularly effective due to the way same-origin is implemented on HbbTV," said Oren. "Remarkably, the attacker's code can freely interact with the device under attack and observe the results of its interaction, without requiring additional steps such as DNS rebinding."
He blamed the attack vector on the "great idea" of attaching TVs to the internet, but the HbbTV body in January dismissed the threat, stating it did not warrant a change in standards.
It previously declined to lift a finger when 12 months ago a separate man-in-the-middle attack targeting HbbTV TV sets was disclosed.
HbbTV is big in Europe and gaining traction across the US. In the antipodes, the standard continued to face trouble after regional free-to-air broadcaster Prime Media pulled out of the national FreeView consortium which had agreed to adopt the standard as a weapon to combat the dominance of subscription TV platform Foxtel.
Smart TVs were popular targets of security penetrating tests due to the large number of rich internet-facing functions that opened avenues of attack. Smart TVs have been shown to be capable of eavesdropping on users through microphones, plundering attached USB storage devices, siphoning off data on consumer's viewing habits, and have been sent into continuous boot loop cycles. ®