Review French car manufacturer Citroën's logo represents the pioneering gear system designed by André Citroën. The company has a long history of innovation from the Traction Avant to the amazing DS – so is Citroën's C-Zero electric car similarly pioneering?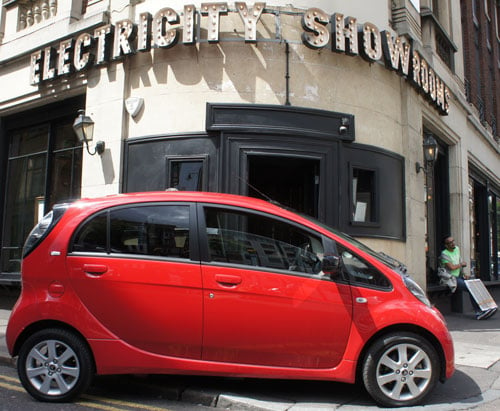 All that electricity and nowhere to charge
The love-child of a Prius and a Smart car, the C-Zero doesn't feel like a Citroën to ride in. This is both a good and bad thing. There is nothing of the magic carpet waft of a CX or DS. But neither is there the need to give advance notice to the engine room when you want full steam ahead.
Electric motors provide all their torque from low down. While horsepower is what makes a car go fast, torque is the "oompf" that gets them rolling. The C-Zero puts out the same amount of torque as a Lotus Elise.1
It doesn't, however, start with the instant acceleration of a Scalextric trigger. Indeed, if you repeatedly tap your foot on the accelerator it does nothing. I suspect some electronic management is at work here. Putting all that torque through the skinny tyres (which, by the way, would shame a motorcycle: 145/65 front, 175/55 rear) would no doubt have them spinning. Maximum torque is quoted as being at 2,490rpm, rather than the usual electric 0rpm.
Once the C-Zero is rolling a little it picks up fantastically. This makes it a great city car. The word "nippy" usually means "something less than fast", but the low speed acceleration is great; it's perfect for city traffic, particularly as you start to pick up the holier-than-thou-attitude of cyclists and dive for small gaps.
The performance feels better than you'd think from the stats. The C-Zero boasts a 49kW motor with 180Nm of torque – that translates to 65bhp and 133 lb/ft in old money. There is 1,120kg to haul around, which is par for the small car course.
These power figures translate to a top speed of 80mph and 0-62 time of 15.9 seconds.
Vroom vroo... oh
The silence is special. It is very cool driving something which is silken and quiet – albeit a bit spooky, especially in car parks where the sound bounces around. You have to resort to the horn in some areas where pedestrians don't hear you coming, as a couple of people walking down London's Brick Lane found out. Legislation is coming in to stipulate that electric cars must make a car-like noise, which is a huge shame as a lot of the appeal is their quietness.
The excitement of electric motoring has gripped car enthusiasts. Not because of any deep love of polar bears and rainforests, but because of the torque curve's unique blend of power with control. The LaFerrari (aka the Ferrari F150) and McLaren P1 hybrid road-legal supercars both have electric boost to make their awesome engines even more so. Ferrari calls it HY KERS and McLaren "torque fill". As the power dips between gears, the electric enhancement fills in the gaps to provide a seamless surge of power. Andre Citroën would have approved.
Being rear-wheel drive, there are no problems in the C-Zero with torque steer, something which – combined with its unfashionably feelsome, albeit electrically assisted, steering – adds to the fun. It's not woolly like the Fiat 500 electric power steering.
Because it's so narrow you can dive for gaps, and with the motor in the back the turning circle is London black cab impressive.
Similar topics