This article is more than 1 year old
Texan parks quadcopter atop Dallas Cowboys stadium
Self-confessed 'dumbass' loses sight of chopper
A self-confessed Texan "dumbass" is attempting to retrieve his quadcopter from the roof of the Dallas Cowboys stadium in Arlington after interrupted radio comms prompted an unplanned touchdown atop the lofty structure.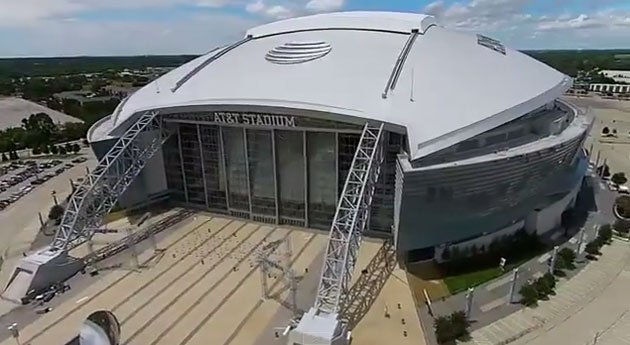 The vehicle in question is a DJI Phantom Vision, which went into "return to home" mode when its owner "let the building get between me and the transmitter", as he explains in his entertaining vid.
Unfortunately, the quadcopter's maximum altitude is capped at a tad under 20 metres, and since it was therefore unable to fly over the stadium on its way back to its hapless master, the flight ended badly.
The pilot had at least fitted his chopper with a pet tracker, so he knows where it is, but stadium security operatives were unsurprisingly disinclined to allow him to clamber on the roof in search of his lost chopper. ®