Comment Google's latest celebrity recruit, Wikipedia cofounder Jimmy Wales, recently gave an extraordinary performance on the BBC's Andrew Marr Show. We want to share with you what he said – verbatim – with expert commentary.
It's about the decision of a top European court that Google cannot be exempt from the Continent's privacy and data protection laws.
The decision balances two "fundamental rights" – privacy and freedom of expression – and gives an individual power to request that Google removes a search result link if the information is old and irrelevant, and if it is not in the public interest.
Google can refuse, forcing the complainant to appeal to the relevant regional privacy watchdog or take the matter to court to get a decision.
Bearing all this in mind, let's see how the American guest got on.
Marr: Should we have the right to erase data we don't like about ourselves from the internet? Should we know how far surveillance goes in our super hi tech world? Should companies like Google be compelled to censor data? All these questions are now hot topics at the moment and are in the mind of one of the internet's undisputed legends, Jimmy Wales. The American-born entrepreneur is best known as the founder of the era-defining online encyclopaedia, Wikipedia.
That's an effusive welcome to the Man From The Internet. Imagine one of Marr's usual guests - George Osborne or Ed Balls - being introduced as "an undisputed legend". In fact Wales is more accurately described as the "cofounder" of Wikipedia. It was Larry Sanger, appointed by Wales, who chose the Wiki software, gave Wikipedia its name, and devised many of the rules still in use today. From 2004, Wales made many attempts to "censor" Sanger out of the history of Wikipedia - removing references to him as "cofounder", before being told to stop by the site's community.
But on with the show.
Marr: Welcome to you, thanks for coming in. Can I talk first about this new Europe ruling which seems a very big one? It seems that anyone has the right to apply to have data about themselves struck out of Google's engines, Google's search engines?

Wales: It's quite broad in ways that many people found very surprising. The case in particular that the Court decided was a case about a link from Google to a newspaper story - legally published, still available online. Um. So It's not just about stolen data, it's not about libel, it's about true facts published in newspapers that can no longer be linked to by Google. It's a fairly astonishing thing to think about.
The ECJ's ruling merely ruled that Google was not exempt from Data Protection laws. The ruling, which had to balance two European "fundamental rights" - freedom of expression and the right to privacy - was warmly welcomed by many groups including the UK Information Commissioner, and much of the European press.
Marr: So in theory, if I am a corrupt business person and I have had a series of convictions and so forth in the past, I can apply to Google saying I don't want people to know about this any more.
Indeed you can, but you're wasting your time. The ECJ said the ruling only related to out of date and irrelevant information. A search engine can refuse the request and bounce it along to the national data protection office. And it can appeal any judicial ruling.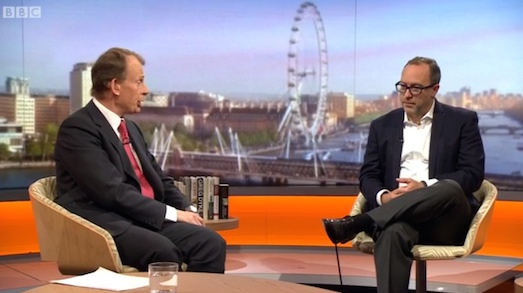 Wales: it's worse than China
Marr: … And a committee on which you sit will have to decide the rules by which I'm [as a corrupt biz bod] successful or fail.
Marr was completely bamboozled by his researchers on two counts. One is the structure of the legal process - in which a judge ultimately decides. And the nature of the Google "advisory" committee, on which Wales sits.
Wales is given an opportunity to correct Marr. How does he handle it?
Wales: Well er, I'm advising er, Google, and basically I have joined this panel with Google. But it's not just about advising Google what to do. I think I view us having a broader remit, asking: "how should we change the law so we can better strike a better balance between privacy and free speech?"
So Wales reveals for the first time that the Advisory Committee performs an additional lobbying role aimed at governments on Google's behalf. It wants to "change the law".
The law, Article 8, is based on the European Convention on Human Rights' own Article 8, which states:
"Everyone has the right to respect for his private and family life, his home and his correspondence".
So it's your human right to privacy Wales wants to undermine.