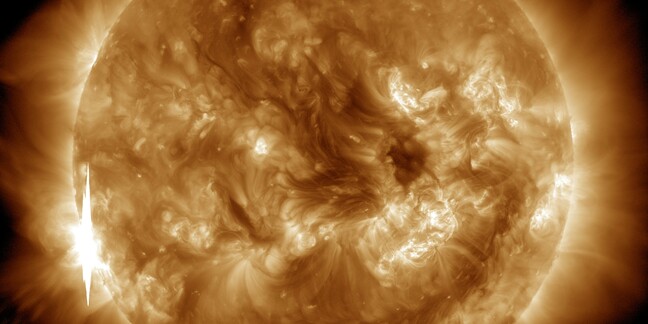 Vid Humanity has once again dodged apocalypse after a solar flare failed to bring civilisation to its knees.
NASA gives particularly huge flares the rating of X-Class, with an X2 being twice as powerful as X1 and an X3 twice as intense as X2 again.
The latest one was a whopping X2.2 and erupted into space on June 10.
NASA explained:
"Solar flares are powerful bursts of radiation. Harmful radiation from a flare cannot pass through Earth's atmosphere to physically affect humans on the ground. However, when intense enough, they can disturb the atmosphere in the layer where GPS and communications signals travel."
Solar flares are scary because they could potentially fry electronics around the world and sending us whimpering back to the Stone Age. So far though, we've survived. And hey, at least an iApocalypse would give us a break from all that bloody tweeting. ®
Sponsored: Ransomware has gone nuclear