This article is more than 1 year old
Huawei Ascend P7: We review the PANORAMIC SELFIE smartphone
China's slimmest, smartest mobe yet
Review Last year Huawei crept into the No 3 spot for smartphone sales worldwide without anyone really noticing. At least not here, where Chinese giant is known (if it's known for anything) for its networking equipment. But with the Ascend P7, it raises its game in two ways.
It's Huawei's first 4G phone, and it's by far the most attractive, eye-catching design we've seen from a Chinese vendor.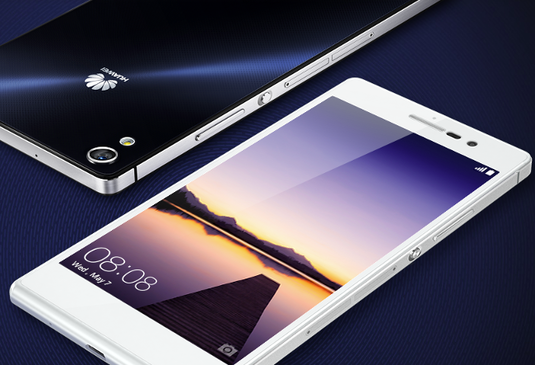 Not that last year's model, the P6, was too shabby. It was slim - the slimmest on the market - nicely designed and good value. This one is incredibly slim and even more nicely designed.
This is a remarkably slender (6.5mm), light and thin 5-inch full HD Android (it weighs just 124g) that boasts a quality display, quadcore CPU and a 2500mAh battery.
It's expandable with a microSD Card. The one unique hardware twist the P7 offers is that the microSD card slot doubles up as a second SIM card slot, using the same tray. Clever, or what? Not quite so unique, but still unusual, is the 8MP front-facing camera - a generous spec for selfies.
What the P7 doesn't have is one of the wow features - or the price tag - of 2014's year's best luxury phones, the HTC One M8 and LG G3 for example. So, there's nothing here equivalent to a Quad-HD screen or laser autofocus as on the LG, or the M8's remarkably nice aluminium unibody or its distinctive BoomSound speakers, or Sony's waterproofing design.
Where the P7 might appeal is that it offers really good value - it's around £200 cheaper than the flagships from Samsung, Sony, LG or HTC.
First the design.
First impressions are positive. The Ascend P7 resembles a taller and slimmer iPhone 4S, with its flat glass back and chamfered metal edge. Huawei has used a seven-layer process to create an optical trick with your depth perception, so depending on how you hold it, you see different textures beneath the glass.
The full HD 1080x1920 display is excellent and the bezels are narrower, less than 3mm, than the iPhone or Galaxy, so more of the front is given over to the display. The pin sharp 445ppi IPS display looks excellent and holds up well outdoors.