NASA reckons the weather in Hawaii is looking vaguely hopeful for the launch later today of its Low Density Supersonic Decelerator (LDSD) - the flying saucer ballocket mission designed to test inflatable deceleration airbags for possible deployment on future Mars landings.
The agency slapped a photo up on Twitter yesterday showing the vehicle sporting its mighty ATK Star 48B rocket motor*, which will accelerate the LDSD to Mach 4 in the upper atmosphere.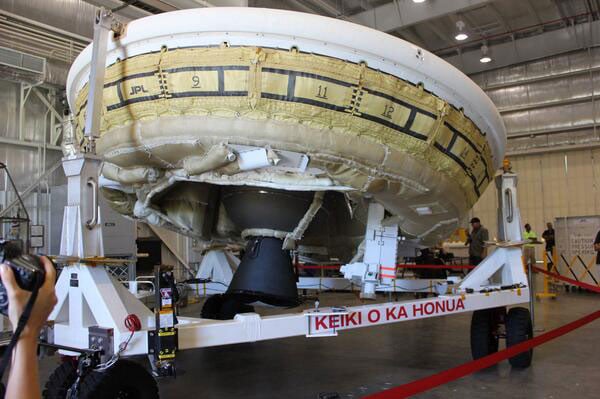 Good to go: The LDSD and its mighty rocket motor. Pic: NASA via Twitter
Before that, a massive helium-filled balloon arguably mightier still will lift the saucer to 36,500m. As we previously reported, the orb contains 963,000m3 of lifting gas, and fully inflated, "would fit snugly into Pasadena's Rose Bowl".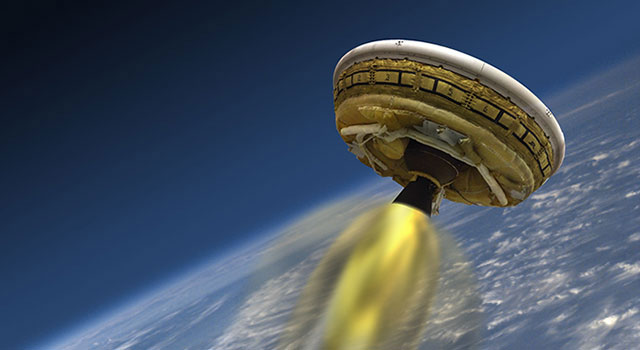 Once it has blasted away from the balloon and peaked out at 55,000m, the LDSD's "Supersonic Inflatable Aerodynamic Decelerator" airbags will inflate to slow it to a modest Mach 2.5, at which point a supersonic parachute deploys ahead of a gentle ocean landing.
All being well, the saucer will lift off from the US Navy's Pacific Missile Range Facility (PMRF) on Kauai during a launch window spanning 18:15 - 19:00 GMT today. NASA promises live coverage here. ®
Bootnote
*The ATK Star 48B motor comprises 2,010kg of TP-H-3340 propellant - 71 per cent ammonium perchlorate, 18 per cent aluminium and 11 per cent hydroxyl-terminated polybutadiene (HTPB) - in a titanium case. Our calculations suggest the unit would easily allow a plucky Playmonaut to slip the surly bonds of Earth and then some.