This article is more than 1 year old
PCIe eyes the Internet of (the next big) Things
Low-power tweaks open door to BEEELLIONs of devices – but do they need PCIe?
PCI-SIG PCI Express – aka PCIe – is already firmly established as the go-to interconnect of choice in the server, workstation, and PC markets, so the standard's champion, the PCI-SIG, is seeking new worlds to conquer – and where else would it look for new territory than in the buzzmarket du jour, the Internet of Things?
"The 'PCI-ness' of PCI Express – in terms of its software architecture, device discovery, self-enumerating bus, power management – all of those things are very well-suited for Internet of Things and low-power, small form-factor devices," PCI-SIG marketing workgroup chair Ramin Neshati told reporters at the group's developers conference last week in Santa Clara, California.
Those low-power IoT devices are right up PCIe's alley, Neshati said, especially considering the standard's "half-swing" or "low-swing" mode, which halves the required launch voltage of PCIe from 800 to 400 millivolts.
Neshati also argued that the way PCIe handles waking up from a sleep state is a great power saver. "We've come up with a very thought-out and clever way to exit that sleep state through the use of some sideband signaling," he said, which can drop idle power down to "almost zero."
He also touted M-PCIe, which is the PCI-SIG's link-layer adaptation of PCIe designed to run over the MIPI alliance's single-lane, low-power, multi-speed M-PHY physical layer. If your eyes just glazed over a bit, just know that M-PHY interfaces are used for chip-to-chip communications in display, camera, audio, video, memory, storage, and other implementations, and are quite resilient to the harsh environments in which IoT devices might find themselves. M-PCIe allows the benefits that Neshati enumerated above to be added to those devices.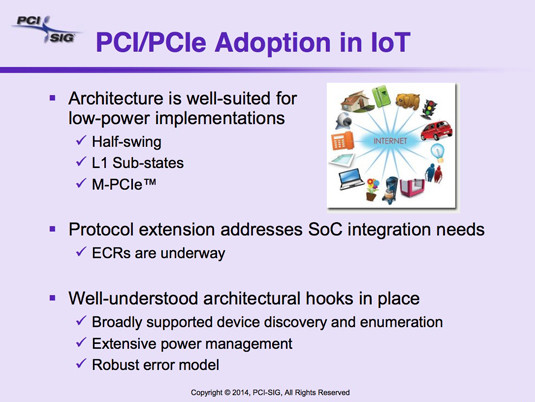 Will the Internet of Things be pumped up by PCIe? Does it need to be?
Essentially, M-PCIe allows system designers to take their existing PCIe implementations and easily scale them for low-power devices built using the popular M-PHY.
"Your investment in PCIe is preserved," Neshati said. "You can use the PCI Express that you know and love very quickly, off the shelf, plop it in with M-PHY, and build devices very quickly for the mobile space – which is a very fast turn, very quick industry."
The sweetness in this approach is that software written for PCIe will run on M-PCIe. "We have demonstrated that from day one," Neshati said, citing M-PCIe prototypes. "Not one line of code got changed."
The question arise, of course, as to whether the powers of PCIe will even be needed by the welter of small, low-power devices that will populate the Internet of Things.
Neshati believes that discoverability will be one key to PCIe's acceptance into the IoT. "Just think of all those devices or IoTs out there," he said. "They all want to be discovered, they all want to be known for what they are, what they do." And as IoT devices become multifunction, he argued, that functional discoverability will become even more important.
PCI-SIG president and chairman Al Yanes, also at the presser, looked at PCIe's future in a somewhat different way. "We needed to be positioned as an option," he said, "and if you're not low power, you're not even going to be considered. ®