The first Star Wars standalone film will be shot in Blighty in 2015, the UK's Chancellor of the Exchequer George Osborne has announced.
Osborne was on the London-based set of Star Wars Episode VII at Pinewood Studios last night, where he tweeted that the first of the movies being made alongside the new trilogy would also be filming in London.
On set of Episode VII tonight, can announce another #StarWars film will be made in UK. A #LongTermEconomicPlan in a galaxy far far away

— George Osborne (@George_Osborne) June 10, 2014
The UK has introduced a number of tax incentives to get Hollywood studios interested in making movies in the country and contributing to the local economy.
"This will mean more jobs and more investment. It is great news for people working at Pinewood Studios, from the set designers to the carpenters," Osborne told reporters on set.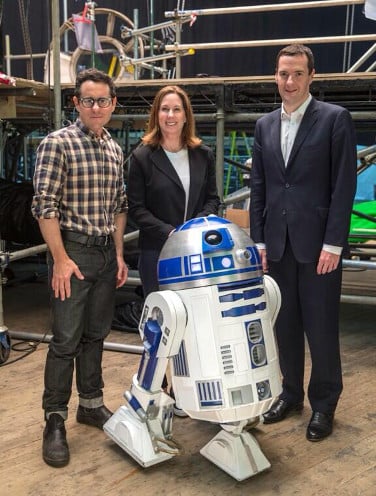 JJ Abrams, Kathleen Kennedy, George Osborne and R2D2
"As Chancellor I have been determined that we back our brilliant creative industries which is why we have invested in skills and training as well as providing tax relief for films, high-end TV, animation, video games and regional theatre. The further changes the government made to the film tax relief at Budget 2014 will support our highly skilled, innovative creative sectors so that they continue to thrive and encourage more films to be made in the UK."
Culture Secretary Sajid Javid, who was also on the Pinewood set, said that the UK's film industry held a "world-leading position".
"We have studios, tax incentives and talent, both in front of and behind the camera, which are amongst the very best in the world. Given Lucasfilm's decision to film another Star Wars movie in the UK, it is clear that the Force is strong here," he commented cheesily.
The Star Wars standalone films, which will be interspersed among the new trilogy, were announced in May, with the first due in December 2016. Not much has been admitted about the plots of the standalone stories, although rumours are rife that the first will be an origin story for a beloved character, with Boba Fett, Yoda or Han Solo at the top of most lists.
Lucasfilm and Disney have only admitted that the 2016 film will be helmed by Godzilla director Gareth Edwards and written by Book of Eli scribe Gary Whitta. ®