Dallas Cowboys to return 'dumbass' Texan's chopper
FAA 'looking into' quadcopter stadium roof landing
The Dallas Cowboys have located the quadcopter which a self-confessed "dumbass" pilot planted on the roof of the team's AT&T Stadium in Arlington, the local Star-Telegram reports.
The unnamed operator's DJI Phantom Vision went into "return to home" mode when he "let the building get between me and the transmitter", as he explained in a confessional video.
Unfortunately, the very building which had cut comms also prevented the chopper flying a straight line back home, and it came down atop the mighty stadium.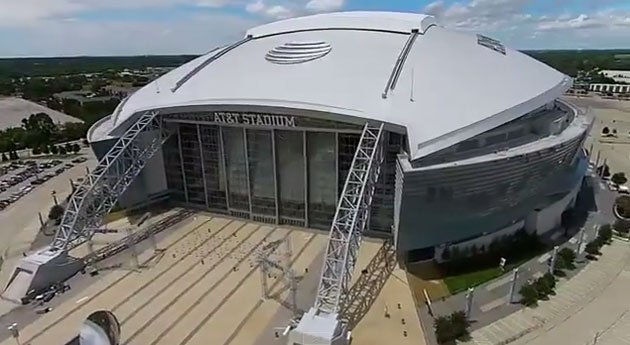 Although a pet tracker showed the vehicle's exact location, the building's security operatives rejected the idea of an immediate rescue. However, Dallas Cowboys spokesman Brett Daniels confirmed yesterday: "We found the drone and will be returning it to its owner."
This is likely not an end to the matter. The video has "has caught the attention of the Federal Aviation Administration", the Star-Telegram notes. Authority spokesman Lynn Lunsford said: "We are looking into it to determine what our next steps might be." ®