US telco titan Verizon floats storage clouds over Himalaya
Amplidata sets off on data mountain expedition
---
It looks like Verizon is parking its storage atop the cloudy peaks of Amplidata's Himalaya object storage architecture.
Amplidata, an object storage startup, says: "With Himalaya, users can easily store and manage zettabytes of data and trillions of stored objects, all under one global namespace using Intel-based commercial off the shelf hardware."
There are two basic components: scaler accessing devices and an object store using erasure coding.
The scalers have an SPX access layer handling APIs and an SDB metadata handling layer. The object store is composed of controllers and nodes. A multi-box schematic shows these components: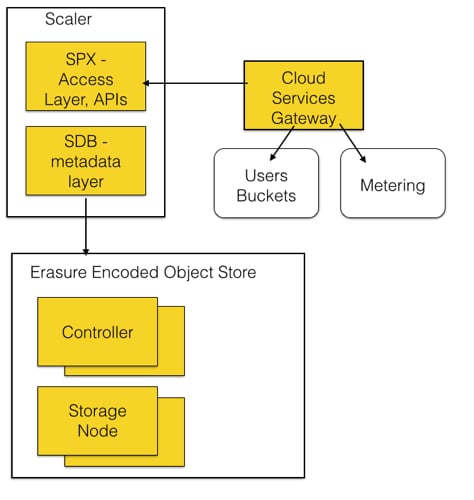 Basic Amplidata Himalaya components
This separation, between front-end access and backend store and between the two components inside each, provides a framework for separate and increased scaling as we go down the stack.
Take a look at this Amplidata schematic, indicating its Himalayan scale and geographic nature: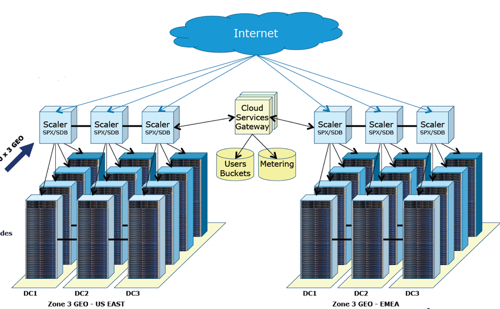 Amplidata Himalaya schematic; click the image to enlarge it.
Time for a dive into deeper waters. Scalers have a global named object namespace. The SPX layer has reverse proxy servers and handles APIs such as S3 (Swift and others planned), plus looking after encryption. The controllers handle erasure encoding and decoding. Storage nodes do dynamic repair of faulty data using continuous data integrity checks. Scalers plus object store couplets can be replicated across geographies for disaster recovery and multi-site accessibility.
One site could be in a private cloud with a second in a public cloud.
Next, the scalability: according to Amplidata its BitSpread technology provides "unbreakable durability with infinite scalability." More than 15 nines of data durability are claimed. 1EB per Scaler is presented as a single namespace. A Cloud Services Gateway (CSG) could provide access to more than 50EB with more than 50 scalers managed. There can be more than one CSG.
File interfaces include CIFS, NFS and file sync'n'share. The iSCSI interface is supported. Himalaya supports multi-tenancy, heterogenous SLAs (Service Level Agreements), and non-disruptive changes in storage configuration and allocation. Performance scales up early with each additional processor.
Amplidata is offering a Service Provider and OEM edition of its technology as well as an Enterprise Edition. Existing AmpliStor customers have a seamless upgrade path to Himalaya.
In January we learnt Verizon's public cloud was going to offer a storage service based on HDS' Content Platform (HCP). Back then we wrote: "HCP is an scalable, object-based storage system with data being deduplicated and compressed. It features Amazon S3 cloud application support and the tagging of files with custom metadata from multiple users and applications."
HCP Anywhere was included in the Verizon offering and it is is a file synchronisation and sharing facility that stores its files on HCP.
Verizon Terremark CTO John Considine then said; "We are building a dynamic ecosystem of enterprise-class networking, storage, and software-based capabilities that will run on top of our new Verizon Cloud infrastructure and Hitachi Data Systems is an important part of this plan."
However Amplidata has announced that its "Himalaya storage architecture now provides Verizon Cloud Storage with distributed object management and global file accessibility."
It tells us: "Verizon Cloud Storage, first announced in October 2013 and currently in beta, is an object-addressable, multi-tenant storage platform providing safe, durable, reliable and cost-effective storage accessible from anywhere on the web. Himalaya is a core component of Verizon Cloud Storage that manages the distributed storage process to help reduce latency."
Considine provided a canned supporting quote: "Amplidata's storage technology was built with enterprise clients in mind – providing the speed, security and scalability large organisations need. This is why we chose Himalaya as the core for our object store."
So HCP Anywhere could now be... er, nowhere.
Quantum OEMs its Lattus object storage technology from Amplidata. We might see it OEMing the Himalaya store as well, a kind of gen 2 Lattus. Rob Clark, senior veep for product operations at Quantum was quoted in Amplidata's announcement, albeit without committing Quantum to doing anything:
"Quantum has incorporated Amplidata's technology as a key building block in our Lattus private cloud and archive system. Throughout our strategic technology partnership, Amplidata has continued to innovate, and today's Himalaya announcement clearly demonstrates its commitment to meeting customer needs."
Still, Lattus could be off on a Himalayan expedition shortly.
The two Himalaya editions will be available on July 1. ®
Similar topics
Broader topics