Geoboffins have cracked open some ancient crystals to discover that the Earth and the Moon are actually 60 million years older than previously thought.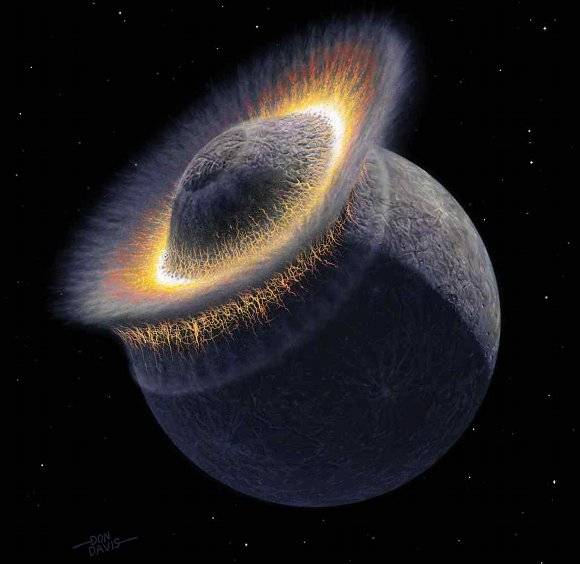 You'd imagine that figuring out the age of the hunk of rock right under our feet would be something that scientists had done pretty conclusively by now, but it's a lot harder than you think. Boffins say that because so little of the rock formations and other classic geological features from way back in deep time is still around today, it's tough to narrow down just how old our planet is.
Scientists instead use the proportion of different gas isotopes that have survived from early on in our world's history to try to figure out just when our Earth's ancestor and another planet smashed into each other, creating modern-day Earth and its smallish satellite.
Two geochemists from the University of Lorraine in France now reckon that collision occurred around 40 million years after the Solar System first started to come together, rather than the previous figure of a hundred million years after the system's formation.
Guillaume Avice and Bernard Marty peeked inside ancient samples of South African and Australian quartz, dated to 3.4 billion and 2.7 billion years ago respectively, and found xenon gas. The quartz acted like a time capsule, preserving the gas and allowing the researchers to compare modern isotopic ratios of xenon to the stuff that was around billions of years ago.
"The composition of the gases we are looking at changes according the conditions they are found in, which of course depend on the major events in Earth's history," Avice explained.
"The gas sealed in these quartz samples has been handed down to us in a sort of 'time capsule'. We are using standard methods to compute the age of the Earth, but having access to these ancient samples gives us new data, and allows us to refine the measurement."
The maths then shows that the Moon-forming impact occurred around 60 million years earlier than scientists had previously thought, after which the Earth started to develop its atmosphere.
"This might seem a small difference, but it is important. These differences set time boundaries on how the planets evolved, especially through the major collisions in deep time which shaped the solar system," Marty added.
The scientists presented their work to the Goldschmidt Geochemistry Conference in Sacramento, California. ®
Similar topics