Measure for measure: We visit the most applied-physicist-rich building in the UK
Like an ass whose back with kilograms of Concorde bows...
---
Enter the Tardis
The buildings that housed most of that early work – such as the testing of the Spitfire – have gone as the work moved on to new fields. All that remains of that past is Bushy House, a country pile in Teddington, where NPL was first based in 1902, shortly after its creation in 1900 by the Royal Society.
What you tour today is the new building, completed in 2003. Inside it is like the Tardis: corridor upon corridor, room upon room. Some offices look more corporate than science – glass walls and office furniture – while others are exactly what you imagine when you think "laboratory": reinforced doors and spotless white rooms. Some labs, though are not at all what you'd imagine as places of science, as I'll get to in a second. The number of doors sporting signs warning of radiation and lasers whip past so fast on the tour they become a blur.
The first set of labs we come to belong to NPL's acoustics department. Here they test sound and noise and the equipment to capture and measure both - 6,000 tests a year. Tested systems are deployed in areas where there's a strong legal requirement to make sure readings are accurate. They work on everything from testing the sensitivity of microphones used in medicine to devices used to measure noise pollution. They've worked with at least one food manufacturer to test the loudness of the crunch of their biscuits.
Janine Avison in NPL's hemi anechoic chamber. Photo: Gavin Clarke
Tests are so stringent, the calibration work by NPL provides a reference standard used to calibrate other people's microphones. NPL claims to achieve minimal inaccuracy on sounds quieter than the level of human hearing at 0.03 dB on mics in the range of 2Hz to 25kHz. Every test that goes out of the lab can be tracked back to ensure accountability, with data queried via spreadsheet or text file.
From small mics to very large tanks
"We send mics around the world," acoustics group higher research scientist Janine Avison told us. "We are one of 12 labs that that measure and we compare the results of our testing rigs."
The particular room we're in looks rather ordinary: white and spotless with work benches and sockets. In the corner sits a rig sprouting wires which relies on software built by NPL to perform pressure measurements on microphones. NPL differs from most other labs, which use an off-the-shelf reciprocity system from a Danish company called Bruel & Kjaer.
The setup measures air pressure, temperature and humidity; there's a signal generator and two lock-in amplifiers combined with the microphones, their pre-amplifiers and their power suppliers. "Powerful" software tools are used to isolate and examine every part of the calibration in detail, Avison says.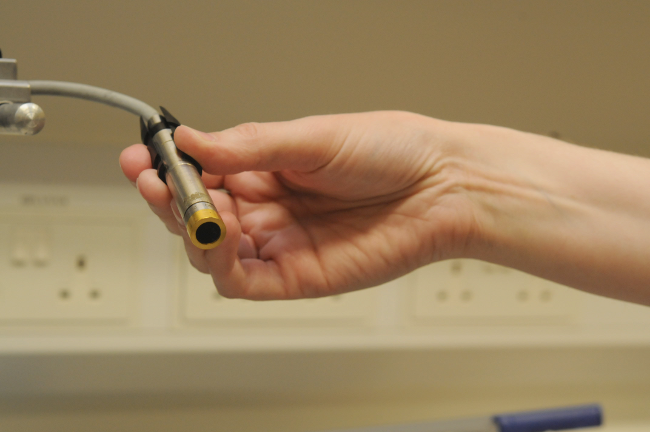 Mics come under pressure (testing) at NPL. Photo: Gavin Clarke
Next, we visit NPL's Large Pressure Tank, which is used to calibrate hydrophones and sonar transducers - which turn electrical signals into sound. Such equipment is used in areas like testing and measuring underwater noise pollution in the range of 1kHz and 1MHz.
NPL has two tanks but we view the larger – 5.5 metres in diameter and 5 metres deep.
This is one of those NPL laboratories I mentioned that doesn't look like a science lab. This one looks more like the inside of a nuclear reactor chamber: a large almost empty floor space save for portals that let you peek down into deep, green-blue coloured water beneath and with various pieces of equipment ready to glide about the top.
This is a split-level lab, though, and go out the door, down a flight of stairs, open a grey-white set of doors and you find yourself squeezing into a room full of huge metal frame and massive wooden barrel. It contains the Large Pressure Tank's 80 tons of water that we were just gazing down.
The whole setup includes a submarine-line Acoustic Pressure Vessel used to simulate ocean conditions that can be pressurised to simulate ocean depths of up to 700m and temperatures of between 2˚ to 35˚C.