Measure for measure: We visit the most applied-physicist-rich building in the UK
Like an ass whose back with kilograms of Concorde bows...
---
Sing it for a second, hear it for 30 seconds
Finally, we peek in two rooms that couldn't be more different: the reverberation room and the hemi anechoic (echo-free) chamber.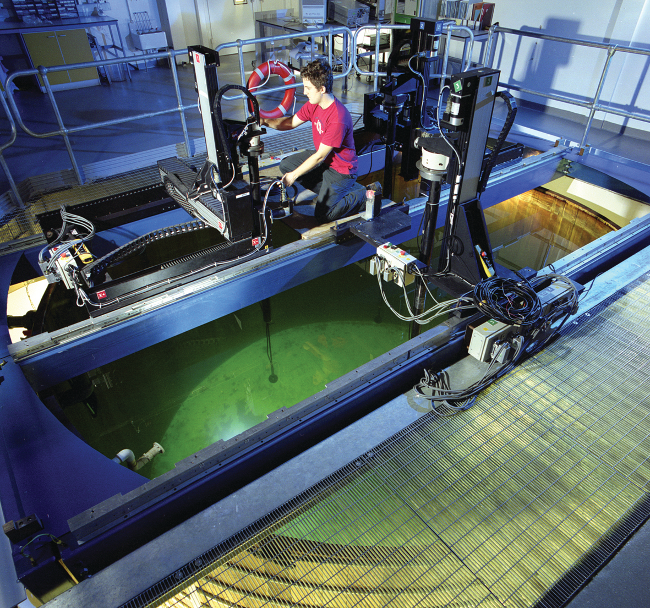 Topside at NPL's large pressure tank, photo courtesy of NPL
The reverberation room has five sides and no parallel surfaces – the idea being to make sound waves travel further and last longer than normal. It's a large room, 330m3 in size, and the wonky walls complete with a single lightbulb dangling down in the middle hanging from the ceiling make this feel rather like being on the set of a German Expressionist film from the 1920s.
The room's properties are enhanced by its construction – thick concrete and coated with extra-hard plaster to help minimise sound absorption and with the whole room resting on a series of thick block-like shock absorbers and sitting inside a larger room for total isolation from outside interference.
A single B2 musical note, which has a frequency of 125Hz, can last up to 29.9 seconds in here. A mumble travels a long way and you find yourself whispering in conversation just to avoid getting an ear bashing. Avison reveals a little secret about the reverberation chamber: she sometimes sings in here.
The reverberation room is used to measure the noise absorption properties of different materials in areas like soundproofing and calibrate equipment like microphones, sound outputs, and absorption of sound.
The hemi anechoic chamber is opposite of the reverberation room. It's an echo-free room and feels like talking while nestling beneath a duvet. The room has a clear floor space of six by six metres, with the walls and ceiling lined by sound-absorbing fibreglass wedges. Like the reverberation room, the hemi anechoic chamber floats within a large room on a series of springs and is accessed by a heavy door to isolate it further.
Tests here are conducted in the range of 125Hz to 20kHZ – from roughly the pitch of an average male voice to a range beyond the hearing of most adults. The room is used for sound power measurements, microphone testing and has been used by at least one food manufacturer test the crunch of their biscuits for loudness.
Next is another one of those laboratories that's probably a departure from the mental picture you had of "a lab". This one is more metal or wood workshop because it is filled with benches, various construction apparatus, building materials and models of different sizes.
En route we stop the office of the man in charge - Nick McCormick, principal research scientist in NPL's advanced engineering materials group.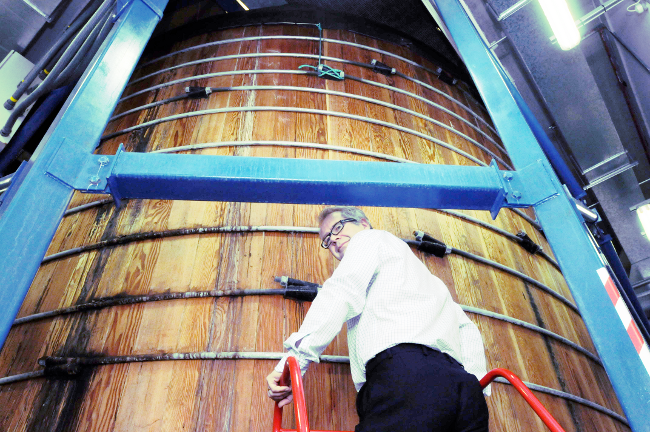 Andrew Hanson beneath NPL's large pressure tank, photo: Gavin Clarke
McCormick pulls a cardboard box from under his desk and pops open the flaps to show us the contents: row upon row of hard disks, still in their shiny silver wrappers, packed in like virgin ammunition. It's 100TB of storage.
Why so much? The answer lies in McCormick's workshop, home to a temporary mock-up of a brick underground tunnel, with rails and metal dolly sporting 12 digital single lens reflex (SLR) cameras armed with four flash guns.
This is not automated papping, but rather a project to test the wear-and-tear of buildings, specifically cracks and gaps in tunnels.
"We are trying to make tunnel inspection easier," McCormick said. "We want to be able to compare different images and identify areas of change."
Currently, it's standard procedure for engineers inspecting tunnels to wander along armed with a camera on their hard hats and a stick tapping a walls playing a game of "spot the difference" and listening to the sound for signs of wear. NPL is working with Network Rail to adopt the system we're looking at. The train company has 300km of tunnels, meaning its engineers do a lot of walking and tapping and generally guessing rather than being accurate.