This article is more than 1 year old
Panasas: Avoid lengthy RAID re-builds - use our dodgy-file tart-up tech
Triple parity and erasure coding
Storage biz Panasas has unveiled boosted hardware and software – and attacked the RAID rebuild problem by rebuilding damaged files instead of complete disks.
The company is an HPC storage system supplier which is moving into technical computing/big data use cases in enterprises. It has more than 450 customers in 50+ countries round the globe.
The hardware is the Panasas ActiveStor 16, positioned as a hybrid, scale-out NAS appliance. It runs v6.0 of PanFS which has a new RAID 6+ protection scheme. This is the sixth generation of PAS hardware; the PAS 11 and 12 constituted the fourth generation, both disk-based with the PAS 14 being the fifth generation. It introduced the use of SSDs to accelerate small, random access IOs, small random accesses into large files, and hold file system metadata
The PAS 11 and 12 were announced in November 2010 and the PAS 14 in September 2012. A little under two years later we have the PAS 16, which has faster controllers (director blades), using 2.53GHx quad-core Xeon CPUs. These are 19 per cent faster than PAS 14 director blade processors and have 4x more cache – 48GB of memory.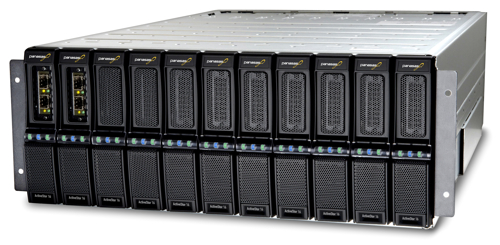 PAS 16 4U enclosure with two director blades and nine storage blades
The PAS 16 storage blade moves up from 4TB disk drives to using 2 x 6TB HGST He drives, and doubled SSD capacity of 240GB. There is now up to 122.4TB of capacity in its 4U enclosures, with ten of them in a rack providing 1.2PB.
As with the previous PAS products data throughput reaches 150GB/sec. The big news though is the RAID 6+ triple parity protection scheme. President and CEO Faye Pairman said PAS 16 had undergone a hardening to make it optimal for enterprise big data applications and PanFS 6.0 is the most important software release for Panasas in the past five to six years.
As big data gets, well, bigger, and so do disk drives, the time to rebuild a failed drives is extended, so much so so that, in large arrays, a second disk drive can fail before the first is rebuilt, causing data loss. RAID 6 protects against this situation. However disks have reached 6TB and will soon be at 8 and 10TB and rebuild times will continued getting longer, which is one problem in itself, and exposing us to the risk of a third disk failure while two disks are being re-built.
What Panasas' RAID 6+ does is to end the default rebuilding of an entire failed drive and only rebuild the damaged data components.
It can do this because, at heart, it is an object-based parallel filesystem. Also the flash in the PAS 16 has been tuned for RAID 6+ operations. Individual files can be restored in a disaster recovery exercise instead of the whole system. Product marketeer Geoffrey Noer said reliability increases as you scale the system, instead of decreasing, and; "Erasure codes protect every file individually."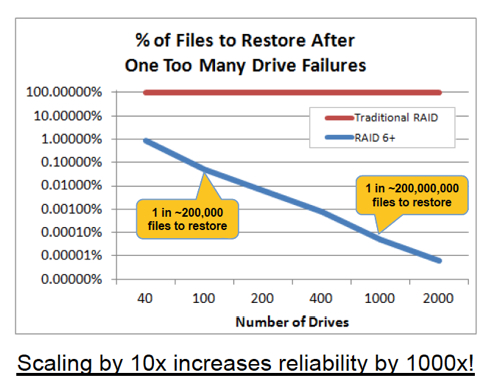 With RAID 6+ a triple simultaneous disk failure means the percentage of files to restore approaches zero at scale.
He says that RAID 6+ provides a 150 x increase in reliability compared to RAID 6 and, with the PAS 16 and PanFS v6 "RAID rebuild performance scales linearly." As the scale of the system grows the chance of any 3-drive failures affecting any given file grow less. RAID 6+ decreases the chances of having to do a RAID rebuild at all.
Small files have three copies stored, all in flash. Filesystem metadata is quadruple-mirrored. Larger files are striped across storage blades. The system is not given a five or six nines availability rating. Instead Panasas talks about an always-on model. While per-file rebuilds are taking place affected files may not be available, but the remainder of the file estate, so to speak, is.
Extending flash use
Upon making the point that all-flash storage, say using TLC SSDs, would greatly increase data access speeds and certain use-cases needing fast access to big data amounts could bear the cost, such as financial trading, Pairman said now we can understand why Samsung Ventures invested in privately-owned Panasas.
The picture of Panasas' funding history we have is;
Founded by Garth Gibson and William Courtright in 1999.
$11m A-round in January 2000 from Mohr, Davidow Ventures
$28.3m B-0round in January 2001
$32.5n C-round in September 2002
First product shipped in 2004
$10m in debt financing in May 2007
$25m E-round in May 2008 from Centennial Ventures, Focus Ventures, Northgate Capital, ITOCHU Corporation, Carlyle Group, Mohr, Davidow Ventures
$15m private equity by Mohr, Davidow Ventures
$25.2m F-round in May 2013 from, we understand, Samsung Ventures, Intel Capital and others
This list shows total funding of $147m. The presence of Samsung Ventures as an investor was news to us. Dong-Su Kim, VP Samsung Venture Investment Co, sits on Panasas' board along with Faye Pairman, co-founder Garth Gibson, and two partners from Moh, Davidow Ventures.
A March 2014 podcast slide (3) lists Intel Capital as well as Samsung Ventures as investors.
Pairman said it's becoming an all-flash world and they see us having tiers of flash in the PAS hardware. It needs an intelligent file system to operate this and PanFS is exactly that, a reliable, hardened, performant file OS.
So we might begin to imagine all-flash storage blades in future PAS systems, a PAS 18 for example which, we speculate, could arrive in 2016, assuming a 20-24 month interval between Panasas hardware releases.
Panasas ActiveStor 16 and PanFS 6.0 are available for order now and expected to ship in September. PanFS 6.0 will be available for PAS 11, 12, 14 and 16 systems. The list price for 122.4TB PAS 16 is $160,000 with an 82.4TB one going for $130,000. ®