Nimble has boosted the performance of its hybrid flash and disk arrays with a CS700 model and all-flash expansion shelf.
Nimble's arrays provide disk-based capacity with flash used as a cache to accelerate data access. It claims that it now "provides the performance of flash-only arrays and the capacity of hybrid arrays" because of this.
The flash is used as a cache and Nimble says it avoids over-provisioning flash through a so-called Adaptive Flash technology, which you can read a little about in a PDF here.
We're told Adaptive Flash is "redefining the storage market" - score 2 out of 10 for this piece of marketing fluff - and that it "allows the dynamic and intelligent allocation of storage resources to satisfy diverse and stringent application demands." There's little more actual detail in the PDF.
It has a maximum of 312.5TB of effective capacity (assuming 2x compression) just like the CS460. In fact the storage capacity numbers for the CS700 only differ from the previous top-end CS460 model in that the 3U head unit can have 3.2TB of flash instead of 2.4TB.
We have tabulated the basic Nimble Storage product configuration data and the table shows this clearly.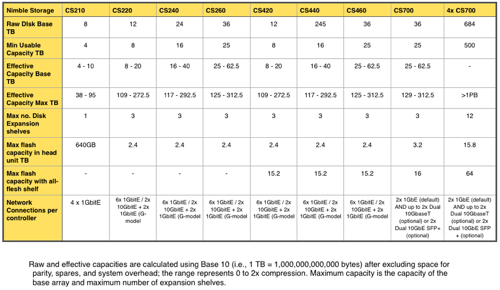 If the small print hurts your eyes click the table to enlarge it.
By using a 12.8TB all-flash 3U expansion shelf the CS700 can have 16TB of flash at most. Nimble's CS400 arrays can use the all-flash expansion shelf as well.
Tegile's hybrid T3400 can scale up to 26TB of flash in the head unit and 288TB in expansion trays. The all-flash T3800 can scale up to 336TB.
Nimble says the CS700 uses Intel Ivy Bridge processors and provides around 125,000 IOPS, up to 2.5x the CS400 arrays.
Brian Troudy, IT manager for Corona Norco Unified School District had a quote in Nemble's release document: "We pushed the Nimble CS700 array as hard as we possibly could, and we consistently achieved north of 125,000 IOPS with under 0.1ms latency across SQL workloads."
Four CS700s in a cluster provide some 500,000 IOPS and 64TB of flash, not as much as Tegile's single T3400. The maximum effective capacity of a 4-node CS700 cluster, assuming 2x compression and excluding space for parity, spares and system overhead, passes a petabyte. Tegile says the T3400's effective capacity is 1PB assuming a 5:1 compression and deduplication ratio.
Using Nimble's more conservative 2:1 ratio the T3400 would have a 400TB effective capacity and the all-flash T3800 would have 672TB. The CS700's effective capacity is 312.5TB and a 4-node CS700 cluster would top out at, we calculate, 4 x 312.5 = 1.25PB. Nimble itself only says the number is greater than a petabyte.
It looks to us at the Vulture storage desk that Tegile has out-gunned Nimble on the flash hardware front.
The CS700 has high-performance triple parity RAID for enhanced data protection with no negative performance impact.
Nimble's veep for worldwide marketing, Dan Leary, said: "We've built a solution that can span a larger set of workloads with more performance and cost efficiency than any other flash solution on the market."
Customers can move from having separate storage arrays for performance-optimised applications, capacity-optimised ones and backup-to-disk data protection to a single Nimble Storage system, which can scale up to the CS700 and a 4-node cluster.
Analyst outfit Stifel Nicolaus' MD, Aaron Rakers, says: "The focus … is to expand the company's product/value proposition into the higher-end market and potentially compete against all-Flash array vendors (e.g., Pure Storage, EMC's XtremIO, NetApp's forthcoming FlashRay, etc.) with a more cost effective hybrid solution."
Nimble said both EMC's XtremIO and the CS700 provide +500k IOPS and <1ms latency, but Nimble claims its product scales up/out more easily than XtremIO.
Rakers thinks the CS700, especially with anticipated Fibre Channel connectivity added to its iSCSI links, could "more effectively compete against the high-end of EMC's VNX-series line-up and NetApp's high-end FAS-series arrays."
Should customers go for an all-flash system or a hybrid? IDC research director Eric Burgener said: "Application workloads that require lots of performance and relatively little capacity will migrate more towards all flash array architectures, and those applications that require lots of capacity and relatively less performance will probably find hybrid array architectures more cost-effective."
Our CS700 takeaways are faster controllers, more flash, and better cache usage, all adding up to a more capable system that can cope with bigger and more diverse workloads.
Existing Nimble customers can grow non-disruptively from their current products to the CS700. The all-flash shelf and C2700 will be available later this month. No pricing information was provided. ®