Which is better for VDI: Vblocks or Nutanix's converged appliances? Nutanix has a test that it claims proves its own kit is best. Unsurprisingly, VCE strongly disputes this.
Nutanix is currently on an anti-VCE drive which it has dubbed nixVblock, and which recently included a controversial campaign reportedly likening VBlock to a "high maintenance" woman, which it has since ditched.
Its latest test, meanwhile, provides numbers showing how inferior all of its converged infrastructure rival's products are when compared to its own.
Vblocks are converged server/storage and networking systems using servers and network components from Cisco, storage from EMC, and VMware from, um, VMware. These components are integrated by the VCE organisation and supplied as single systems. The 720 mentioned here uses VMAX high-end enterprise array storage.
Nutanix makes single boxes with servers and storage which can be scaled out. In the VDI comparison here they used four 2U NX-3000 appliances and used two 1U 10gbitE switches, making them less converged than the Vblock 720. However the Nutanix kit, which uses DRAM, flash and disk for storage, performs better than the 720 system (we're told) and, if Nutanix's numbers are to be believed, at a much lower cost.
A VCE spokesperson told us this is like comparing the glove box in one vehicle to an entire car.
Nutanix claims its kit for 1600 VDI users costs less than half the price of a 1600-user Vblock from VCE. And the NX-3000 takes up a twelfth of the VBlock's rack space and needs a twelfth of its power and cooling costs.
The comparison table shows us the Nutanix-provided numbers;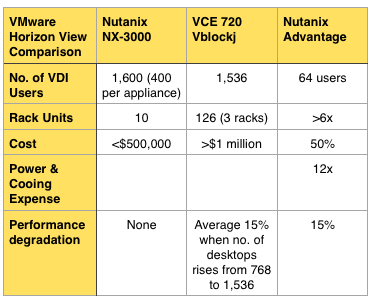 Nutanix pulled its Vblock 720 information from a VCE document entitled "Vblock Solution for Knowledge Worker Environments with VMware View 4.5," and compared a 720 Vblock with their own NX-3000 scale-out system.
The resulting numbers, of which we have been given a summary, are certainly eye-catching and prominently in Nutanix's favour – which comes as no surprise.
A VCE spokesperson said:
The data provided appears to be making a comparison with a VCE technology proof-of-concept for VDI from more than a year ago where the full capabilities of the Vblock System 700 series were not being leveraged for that particular test. This is similar to comparing the glove box in one vehicle to an entire car.

When used to its full potential, the Vblock System 720 can support other complex enterprise workloads in addition to large VDI deployments. Also, the Vblock Specialized System for Extreme Applications introduced last September is optimized for VDI and can support thousands of virtual desktops on a single rack, with superior performance and a very competitive price per desktop.
®