Networking megafirm Cisco has released a numbingly comprehensive report forecasting IP traffic up to and including 2018, which comes to the unsurprising conclusion that the market from which Cisco earns its bread and butter will continue to balloon for the foreseeable future.
The Cisco Visual Networking Index (VNI) contains a tsunami of estimates of projected IP traffic based on what the company terms "a combination of analyst projections, in-house estimates and forecasts, and direct data collection."
"Today, we are firmly in the 'Zettabyte Era' and witnessing incredible innovations and shifts in the industry," said Cisco VP of products and solutions marketing Doug Webster when announcing the VNI, citing what he called the "Internet of Everything", network mobility, and the onslaught of 4K video as primary drivers of the projected increase in IP traffic.
Here are a few nuggets of how the VNI sees the future:
Get ready for two new abbreviations: ZB, zettabytes, meaning 10007 decimal; and ZiB, zebibyte, meaning 10247 binary – both a billion times greater than their TB and TiB fellows. Cisco estimates that "By 2018, global IP traffic will reach 1.6 zettabytes per year" – but we're not going to guarantee that they did not actually mean zebibytes.
Last year, IP traffic from wired devices totaled 56 per cent of all traffic – but that's going to change. According to Cisco, "By 2018, wired devices will account for 39 percent of IP traffic, while Wi-Fi and mobile devices will account for 61 percent of IP traffic."
Consumer-consumed video-on-demand traffic will spike, as well. "The amount of VoD traffic by 2018 will be equivalent to 6 billion DVDs per month," says Cisco.
Consumers will clog the interwebs with video big-time by 2018. "The sum of all forms of video (TV, video on demand, Internet, and P2P) will be in the range of 80 to 90 percent of global consumer traffic by 2018," they estimate.
If you think that IP traffic has been increasing markedly over the past few years, you're right. "Global Internet traffic in 2018 will be equivalent to 64 times the volume of the entire global Internet in 2005," Cisco says. "Globally, Internet traffic will reach 14GB per capita by 2018, up from 5GB per capita in 2013."
The VNI report is chock-full of stats tables – 16, to be exact. Here's just one, "Global IP Traffic, 2013–2018", to wet your whistle: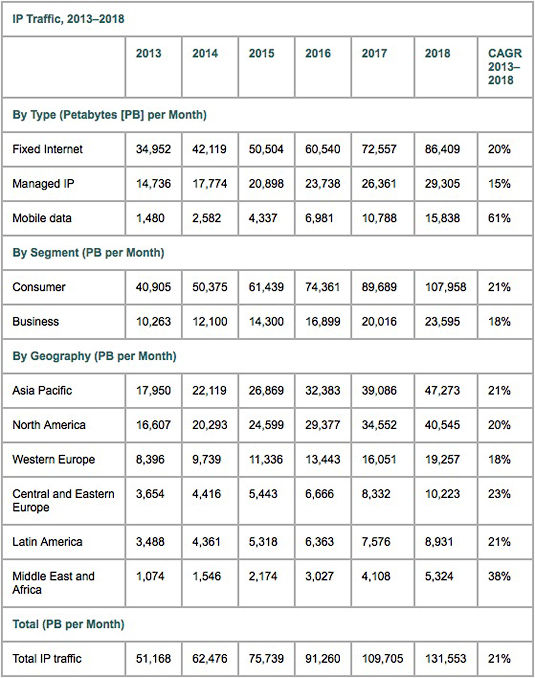 Consumer IP traffic will continue to more than quadruple that of business traffic for the foreseeable future
If your eyes glaze over when scanning table after table, Cisco also provides an interactive graphic that will let you click through to the high points. And if you want to dig deeper, check out "The Zettabyte Era – Trends and Analysis", whose 6,750 words, 19 graphs, and seven tables will provide some light reading.
But if you'd rather boil it down to one simple take-away, may we suggest the following: by 2018, 1.6 zettabytes per year will be flowing through the late senator Ted Stevens' "series of tubes".
Or, as Cisco explains, "It would take an individual over 5 million years to watch the amount of video that will cross global IP networks each month in 2018." ®
Similar topics