No, it isn't the greatly anticipated all-flash array magic quadrant, but it's great Gartner analysis nonetheless. The number-crunchers at Gartner HWQ have produced a Market Share Analysis: SSDs and Solid-State Arrays, Worldwide, 2013. Yummy. Let's see what's inside.
The doc, available as a download from Pure Storage (guess who's done well in the analysis) after registering a few details. It looks at both SSDs and all-flash arrays, which Gartner calls Solid State Arrays (SSAs) and IBM comes out as the leading SSA shipper – with Pure Storage second.
SSAs are defined carefully: "SSAs are scalable, dedicated, solutions based solely on solid-state semiconductor technology for data storage that cannot be configured with HDD technology at any time. As distinct from SSD-only racks within ECB storage arrays, an SSA must be a stand-alone product denoted with a specific name and model number, which typically (but not always) includes an operating system and data management software optimised for solid-state technology."
To cut a long story short, Dell and HDS all-flash array products are excluded, as are all-flash versions of – for example – EMC VMAX and VNX, and NetApp FAS arrays.
The SSD category embraces PCIe flash cards and also includes "self-contained solid-state NAND dual in-line memory modules (DIMMs), which must be used in dedicated slots in servers. Mainstream PC SSDs being used in servers are counted in this category due to end consumption."
We'll graph the information here, and you can read the detailed numbers by downloading the doc. The SSD info starts with worldwide vendor revenues: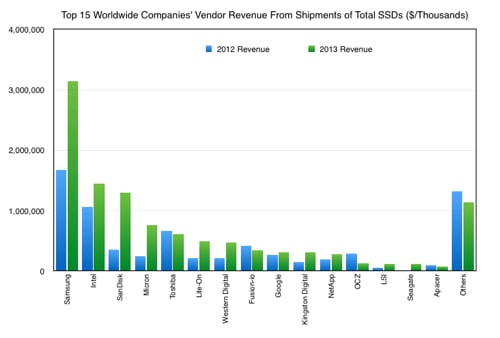 Click chart for larger version
Total SSD revenues in 2012 were $7.2 billion, and in 2013 had risen to $10.99 billion, a 53.1 per cent increase.
Samsung as top dog got most of that with Intel, growing less, at number 2. Look at Sandisk's rocketing growth up into the no 3 slot, closely followed by Micron. Toshiba held its fifth place but didn't grow much. WD grew, Fusion-io declined and now we're in the tail-enders.
Now let's look at the enterprise SSD market: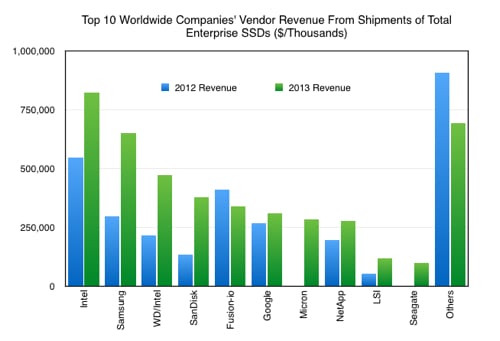 Intel is top dog, not second-placed Samsung. WD, with its HGST/Intel SSDs is in third place followed by SanDisk successfully exhibiting its enterprise supplier credentials. Then there's Fusion-io, which declined 2012 - 2013, Google with its internal use - amazing - Micron is a, we think, in a disappointing sixth place, NetApp a, for it, strong seventh then LSI and Seagate. EMC does not appear at all.
Now for the SSA numbers.
Here are the vendor revenue market share numbers: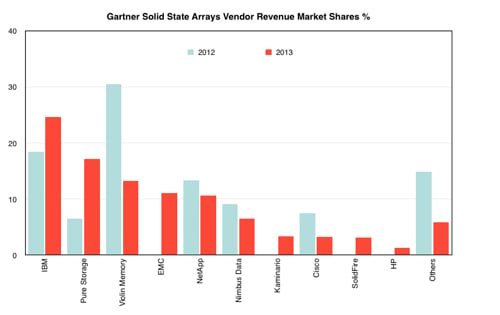 Click chart to make it larger.
And here the actual SSA revenues by vendor: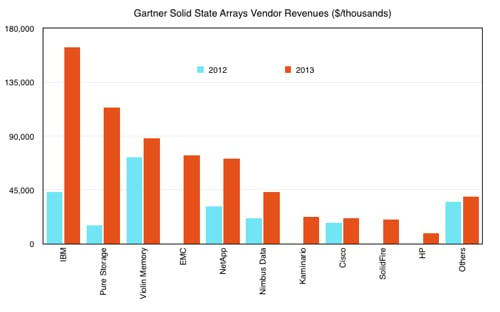 Click chart to make it larger
IBM has had a wildly successful 2013 year, solidly overtaking Violin Memory to claim a dominating number 1 slot. Pure Storage has rocketed to the number 2 position in 2013 while Violin Memory slumped from first place in 2013 to third in 2013, illustrating the new management team's uphill task. EMC has sprung into fourth place from a standing start and NetApp is not far behind in the fifth slot. Then there's Nimbus Data and tail-ender Cisco - a dismal showing for the networking behemoth in our view, with startup SolidFire very close behind.
The SSA market was sized by Gartner at $236.5m in 2012, and 182.1 per cent higher at $667.3m in 2013. IBM's SSA revenues grew at 278.1 per cent, Pure's at a magnificent 642.3 per cent and no other vendor outpaced the market, meaning they lost share.
Now this is artificial, as EMC, Kaminario, SolidFire and HP had no presence in Gartner's numbers in 2013, but we can assert that Violin Memory, NetApp, Nimbus and Cisco all lost share from 2012 to 2013. With EMC, Kaminario, SolidFire and HP now in the SAA market we might expect these losses to continue in 2014.
The Gartner analysis contains more data, segment metrics and so forth. It's worth a download and read if you're interested.
Main takeaway? Big Blue really is big in SSAs, Pure Storage is living up to its hype, and the SSA market is growing at a fast lick. NAND the story goes on. ®
Similar topics
Broader topics