IBM has written its own Software Defined Storage for Dummies book (PDF) focusing on – you guessed it – its home-brewed General Parallel File System Elastic Storage.*
It defines software-defined storage like this:
At its most basic level, software defined storage is enterprise class storage that uses standard hardware with all the important storage and management functions performed in intelligent software.

Software defined storage delivers automated, policy-driven, application-aware storage services through orchestration of the underlining storage infrastructure in support of an overall software defined environment.
It goes on to say: "A software defined storage solution increases flexibility by enabling organisations to use non-proprietary standard hardware and, in many cases, leverage existing storage infrastructure as part of their enterprise storage solution. "
"Additionally, organisations can achieve massive scale with a software defined storage solution by adding individual, heterogeneous hardware components as needed to increase capacity, and improve performance in the solution."
Chapters 3 and 4 dig deeper. It's a good quick intro to GPFS – oops, sorry, Elastic Storage.
GPFS is currently being sexed up as Elastic Storage, which has trendy, cloud-like, pay-for-usage connotations.
John Langlois, IBM's Elastic Storage product manager (not the man who looks after stocks of rubber bands, we hasten to add) said in a mail message: "We're going through a naming transition and you will see some GPFS features now described under the codename Elastic Storage. Don't let the codename confuse you …"
Why is this re-naming being done? "We are changing the name to reflect the fact that IBM is significantly increasing investment in this technology area and we will stretch GPFS out into the Cloud with Open Stack object support (e.g. SWIFT object store guide coming in June)."
He added: "GPFS will be available in the Softlayer Cloud Managed Service Offering catalog soon," and enumerated a list of GPFS 4.1 features:
Native encryption and secure cryptography erase (data wiping) that is NIST-Compliant and FIPS certified
GPFS client-side IBM Elastic Storage Flash caches that increase I/O performance by up to six times
Active File Manager now supports parallel data transfers between sites, using multiple gateway nodes
AFM now supports the GPFS protocol in addition to NFS protocol for file transfer
Much simpler socket based pricing - no more PVUs
There are also lots of usability improvements that include:
NFS Data Migration - Eases data transfer from NFS when upgrading hardware or buying a new system
AFM Optimisation - Improved prefetch performance; support for the native GPFS protocol
Backup/restore Enhancements - New Fileset Snapshot Restore tool; Backup utility enhancements
FPO Improvements - Data locality aware file system recovery and improved performance.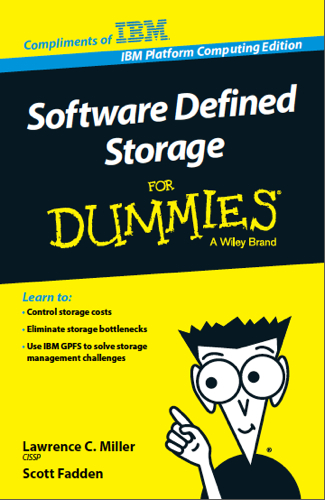 ®
* Go to the URL and click the floppy disk icon to download the full book.
Similar topics
Narrower topics