This article is more than 1 year old
Latest casualties of Iraq fighting: Facebook and Twitter
'Praise be to Allah, who gave Twitter to the mujahideen'
Iraqis appear to have been blocked from using Twitter and Facebook after the Islamist insurgent group ISIS, now in control of much of the country, thanked Allah for social networking.
Known for using extreme violence in its bid to set up a medieval Islamic state on the borders of Iraq and Syria, ISIS is as prolific on social media as it is ferocious on the battlefield.
The hardline Sunni group has already captured the city of Mosul and is now marching on the capital, Baghdad, prompting the Iranian Grand Ayatollah Ali al-Sistani to issue a call to arms to all Shi'ite men. Shi'ites are a majority in Iraq, especially in the areas south of Baghdad: ISIS considers them to be infidels.
A Kuwaiti news agency suggested that the Iraqi government's Ministry of Communications has closed off access to the sites to hamper the rebel's communications. Pornographic sites have also been closed down.
We logged on to several Iraqi proxy servers and were unable to access the social networks, while still getting normal access to other sites. However, we did not see the image below, which is being circulated on Twitter. It appears to show that one of Iraq's biggest ISPs has been told to block Twitter and Facebook.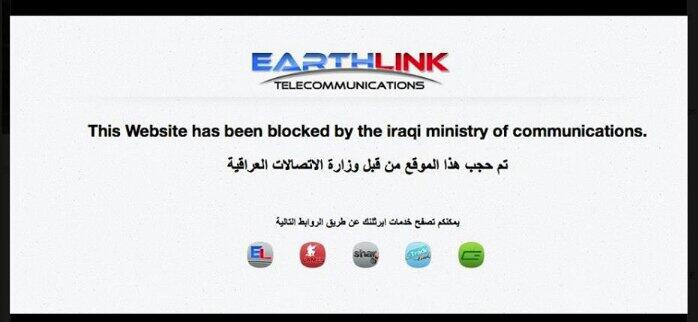 We also tried to contact that ISP and the Ministry of Communication, but both were unavailable.
On Tuesday, an ISIS fighter using the handle Soldiers of Iraq and the Levant (this is what ISIS stands for) tweeted:
"Praise be to Allah, who gave Twitter to the mujahideen so that they may share their joys and not have to listen to the BBC, al-Arabia, Al-Jazeera."
The analysis firm Akamai has reported two days of internet problems in Iraq.
Second day of #Internet issues in #Iraq? @Akamai traffic levels to country showing unusual degradation at 10am UTC pic.twitter.com/txVqzKp0Ry

— StateOfTheInternet (@akamai_soti) June 13, 2014
We'll update you when more details emerge. ®