S is for SMACKDOWN: Samsung takes Galaxy Tab slab war fruit-side
Bigger screens, smaller pixels for would-be iPad buster
---
Samsung has raised the stakes in its assault against Apple's ever-popular iPad with its newest range of Galaxy fondleslabs, which are both bigger and have higher screen resolutions than those of its fruity rival.
The new Galaxy Tab S comes in 8.4-inch and 10.5-inch configurations, both of which are the thickness of a current iPad (6.6mm) and slimmer than previous Samsung slabs. The slimmest of the fondleslab lot, of course, is the Sony Xperia Z2 tablet at 6.4mm – but at this extreme it's splitting hairs.
What's more impressive is the increase in pixel density. The new tab has a 2560 x 1600 resolution on the 10.5-inch screen, which works out to 264 pixels per inch, while the 8.4-inch packs 359 pixels per inch. This compares with the iPad Mini's retina display at 326ppi on a 7.9-inch display and the iPad Air at 264ppi on a 9.7-inch screen.
Samsung is at pains to point out that it's more about raw resolution with enhanced colour depth and a contrast ratio of 100,000:1 on the AMOLED display and a whole gamut of colour balancing and configuration options, which include outdoor and power-saving modes.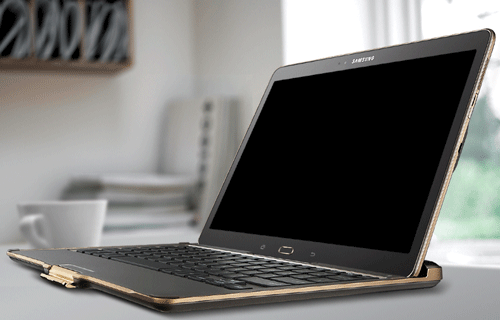 Both devices come in Wi-Fi and LTE (4G) flavours; are based on the Exynos 5 Octa (1.9 GHz QuadCore + 1.3 GHz Quadcore) or Qualcomm Snapdragon 800 2.3 GHz Quadcore processors; have 8MP rear and 2.1MP front cameras, and run Android Kitkat 4.4. There are options for 16 or 32GB of internal memory and support for micro SDs of up to 128Gb. There is support for 802.11 a/b/g/n/ac MIMO, WiFi Direct, Bluetooth 4.0 (formerly known as BLE and now Bluetooth smart) – and Infra Red so you can switch the footie off in the pub.
The bigger tab has a 7900mAh battery and weighs 465g (12g more if you add LTE) and the smaller one packs a 4900mAh battery and weighs in at 294g – with LTE only adding another 4g.
If software weighed anything the devices would be substantially heavier as they are positively creaking with stuff, including a football app called Kick just in time for World Cup fever.
It provides in-depth and visually compelling sports data in real-time as matches get played, delivering a unique football companion experience. Users are updated on all the news and action as it happens, empowering fans with more information about the game before, during, and after each match.
Also bundled into the tabs are a magazine subscription service called papergarden and a customised Kindle app, which gives users a free book a month. There is also a catalogue of 15,000 Marvel comics and a trial subscription to "Marvel Unlimited" which is limited to three months. This is also a product placement deal which will put Samsung products in the hands of characters in forthcoming Marvel movies:
To further bring the partnership to life, Marvel and Samsung will work together to create exciting new products in real life, on the page, and on the silver screen. Bringing together Samsung's technology innovation and Marvel's creativity, the world of Samsung Mobile will be seamlessly integrated into the Marvel Universe to reshape the way consumers view the power and possibilities that their mobile devices can deliver.
There are various freebie subscriptions to around 30 products and services such as the Wall Street Journal, Evernote, Dropbox and LinkedIn.
Along with the new fondleslabs, Samsung has brought out a range of accessories. The Book Cover tilts to three different display angles, and there's a Simple Cover for the light-of-wallet. There is a new Bluetooth keyboard and some audio products including three headsets: a big, over-ear one using Bluetooth, a similar wired design and a wired in-ear headset.
The new Galaxies are not far, far away – they will be on sale next month in the US starting at $399 and $499 respectively. The vendor has not yet released UK dates or pricing. ®