This article is more than 1 year old
It's tough at the top: Yet another hybrid startup knocks EMC
First Nutanix, now Nimble Storage
Nimble Storage is setting its sights on would-be EMC clients with competitive data tables showing that its product is better than both VNX hybrid arrays and also XtremIO all-flash arrays.
This comes just days after Nutanix opened up its Nix vBlock marketing campaign against EMC-using Vblocks from VCE. It's hard being top of the storage heap.
The hybrid array startups are on a roll, growing fast and winning lots of deals because of superior price/performance using flash-accelerated data access and disk capacity, adequate data management services, and easier/better system management facilities - at least this is what they claim.
Full of confidence with its latest CS700 news, Nimble Storage has eagerly positioned its kit against a VNX 7600 array and an XtremIO 4 x X-Brick cluster configuration.
This information came from a Nimble-Hosted call for investment analysts following the CS700 launch, and Stifel Nicolaus MD Aaron Rakers reported on the call.
Nimble's CS700 is more flash-enhanced than the VNX 7600 and has, Nimble says, using publicly available EMC information, both lower data access latency and can carry out more IO operations per sec.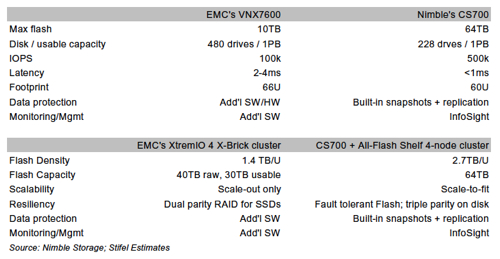 Click chart to enlarge
A four-node CS700 cluster is compared to a 4 x X-Brick cluster and, Nimble says, its kit has more flash, and better data protection from its RAID and included software. There's no performance comparison though and potential customers would be well advised to carry out a thorough comparison.
It used to be that you could buy an all-flash array by checking out all-flash arrays. Now the hybrid upstarts are making life more complicated by shouting out that they need to be checked out as well because they have as much if not more flash and can have disk capacity economics added in as well their one flash+disk silo doing the job of two separate flash and disk storage silos.
The answer to that by the all-flash array folks would seem to be demonstrating superior speed and having great backend links to disk arrays. Maybe we'll see an XtremIO front-end to a VNX array with FAST tiering software between the two. Now that would be a convergence step to conjure with. ®