Government-funded bods at a tech incubator called the Transport Systems Catapult are working to design a "one-card-to-rule-them-all" system that includes London's buses, underground and overground trains as well as its black taxis, The Reg has learned.
The pay-by-bonk system is intended to be similar to TfL's Oyster card, but will allow travellers to pay for all the various methods of transportation in the capital using one card.
This plan is likely to prove controversial among the city's taxi drivers, whose recent clashes with minicab-hailer app Uber led to a number of strikes, and could encounter several major technological and organisational hurdles.
It also raises questions of surveillance, as any card which is able to track a person's entire journey offers a fantastic opportunity for spooks, businessmen or politicians to snoop on citizens.
Meetings have taken place at the very top of government to discuss the new system, politicians told us at the launch of the catapult yesterday.
Iain Stewart, Transport Under-Secretary and MP for Milton Keynes South, said: "Transport planning is evolving from just laying on a bus or train which get you from A to B. We are looking at an end-to-end journey. This will lead to the development of a smart ticketing product, so that instead of having to buy a train ticket, bus ticket and taxi fare, you will end up with one card that takes you through the whole journey.
"That's just one of the things this centre will innovate," he continued.
The scheme was inspired by similar projects on the continent, such as a card in the Netherlands which allows travellers to pay for trains, hire bikes and even book electric vehicles.
"We need a system robust enough that the consumer feels they are not being fleeced for high fare. They have to have confidence that the smart ticket will give them the cheapest option," the MP continued.
High-ranking staff at the Catapult confirmed that the one-card-to-rule-them-all project was underway, although it does not yet have a rollout date.
An Oyster-style card for taxis has been trialled in the capital previously, but is not yet featured in all taxis.
Business Secretary Vince Cable opened the Catapult yesterday and said the global market for "smart transport technology" would generate £90bn a year for the UK by 2025, representing an optimistic 10 per cent of a £900bn global market.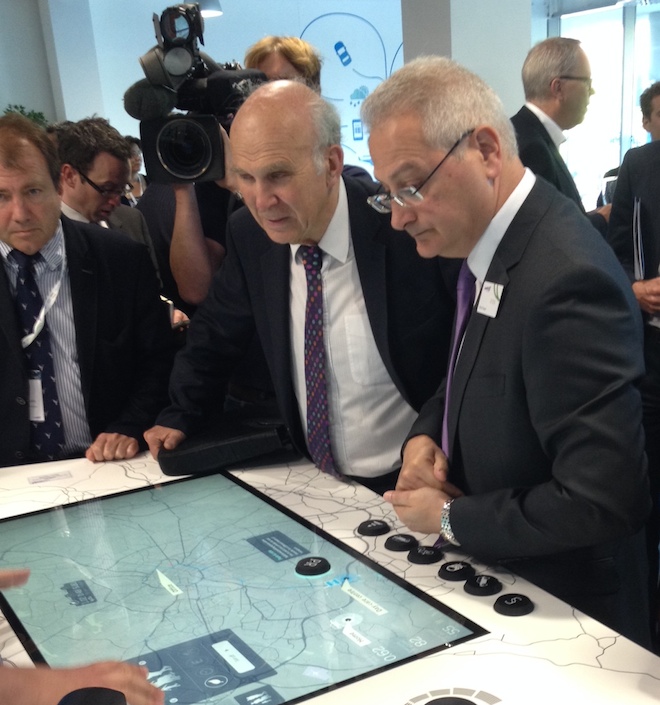 "The big new idea is intelligent mobility," he said. "We need better transport systems. The traditional way is to treat this as an engineering problem and just bung in a new infrastructure. If we want to do better, we need a new understanding of information systems and tap into the internet to make sure we move people and goods around in a much more intelligent way.
"I was in China a couple of weeks ago, talking to party secretaries from seven Chinese cities. The main theme of their conversation was how they could develop their infrastructure systems. They recognised Britain is potentially ahead of this field. It is very clear that if we are able to progress this, we could be world leader and take substantial share of this huge market."
More catapults to come...
By the end of the year, nine of these Catapults will be in operation with remits ranging from the "connected digital economy" to "future cities".
The Transport System Catapult is based within the sterile grid-lines of Milton Keynes. It has a technology-free "Ideas Room" equipped with vast numbers of post-it notes and a basketball hoop, designed to allow staff to let their mind soar far beyond the dismal new town's skyline.
There is also an "opportunities wall", with the value of various sectors printed in the middle of large, colourful rosette designs.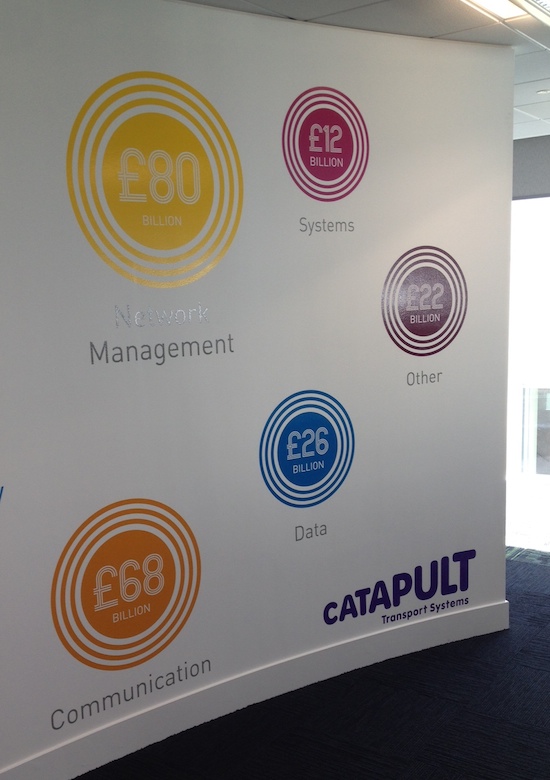 Almost everyone we met at the Catapult seems to have been working for just a few weeks, from its new technical director to the head of systems. It has a airy, trendy feel, more like the wide-open campuses of California than the trendy nooks of London's grimy Old Street roundabout.
Other projects under way at the Catapult include a scheme to track and analyse the opinions and feelings of travellers across Britain's train network and the London Tube about the service (known in the trade as "tracking brand sentiment"). The hope is that this might stop customers unleashing anger upon beleaguered station staff, as well as identifying bottlenecks or pinch points in the system.
Vince Cable was shown an early version of a "sentiment-tracking" system called Commonplace, which can plot people's moods in real time.
"What have we learned here?" the business secretary asked plaintively after being asked a very basic series of questions about his journey.
Not much so far, because details of Cable's schlep from his home in Twickenham to Milton Keynes was one of the first pieces of data to be added into Commonplace's transport tweet tracker.
The Catapult will also support a scheme called LUTZ Pathfinder, which will trial driverless pods on the streets of Milton Keynes.
As a whole, the Catapult system is intended to help business and government work together to develop innovative ways to make money.
"Britain is perhaps the world leader in science in terms of numbers of peer reviewed papers and Nobel prizes," Cable added. "When it comes to application of scientific idea in business, [it is] closer to bottom of class in developed world. A lot of thought has gone into how to deal with that gap." ®