This article is more than 1 year old
Spaceplane design nipper Ariadne gets a promotion
Now 'Sub-orbital aesthetics consulting engineer', with a badge to prove it
We're delighted to announce today that Ariadne - the young nipper responsible for the design of our Vulture 2 spaceplane's fetching vinyl wrap, has been promoted to "Sub-orbital aesthetics consulting engineer" for the Special Projects Bureau.
To make it official, she now has her very own badge, courtesy of Chris Pyper down at Space Graphic Solutions (SGS):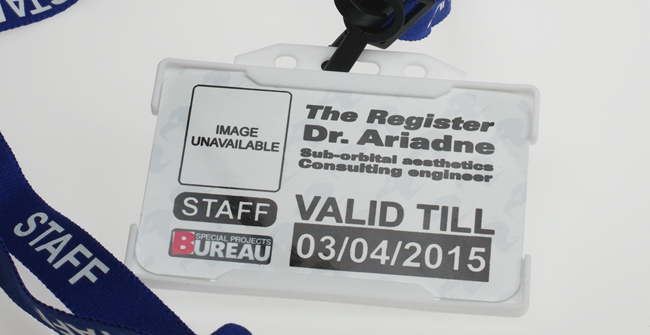 Fans of our Low Orbit Helium Assisted Navigator (LOHAN) project will recall that it was SGS who volunteered to get Ariadne's design onto the aircraft, and once the job was done, knocked up a banner in Ariadne's honour. Here we have the chaps posing with locals outside The Fish at Wixford...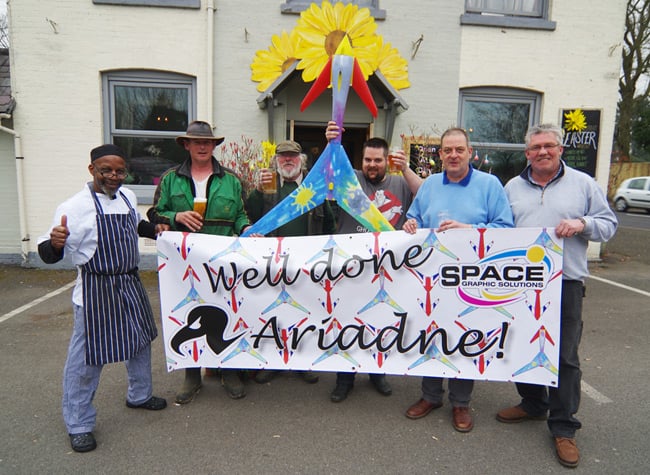 ...comprising from left to right: The Fish's chef Everton Lawson, locals Adrian Brookes and Ron Betteridge, Chris Pyper, Chris's dad and SGS founder Dean McGauley and SGS vinyl wrap supremo Pete Cox.
What we didn't tell readers at the time was that Chris delightfully decided to provide Ariadne with a few presents, to share with dad Stelios, naturally.
You've seen the badge, so what about the mug...

...or indeed the coaster bearing the original sketch?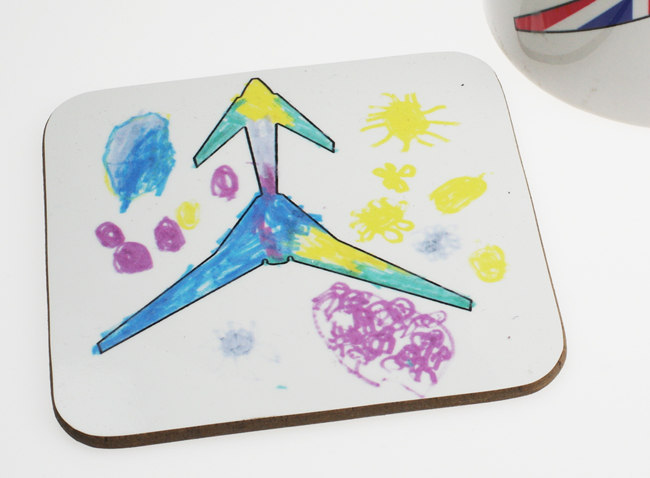 Terrific stuff. When Stelios recently received the package, coincidentally just before Ariadne's birthday, he said: "I took a peek, you guys are crazy." He added: "Many many thanks, a great honour."
Our pleasure, and here's Chris lovingly hand-crafting the mug by the process of dye sublimation: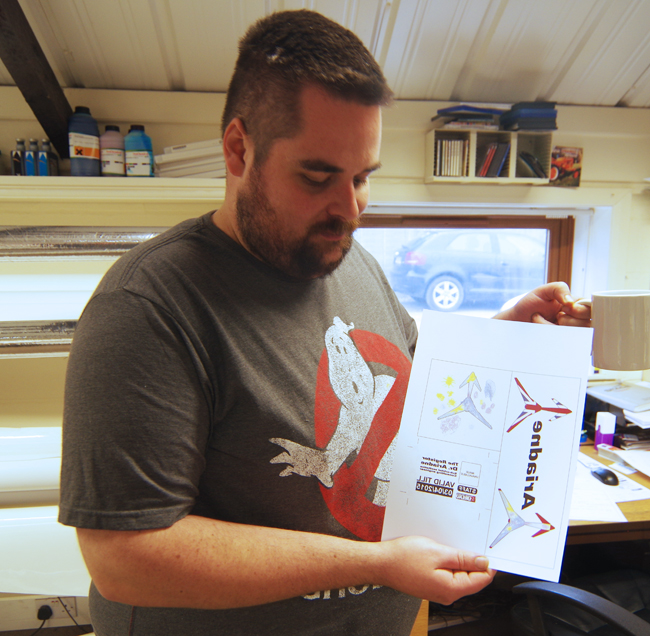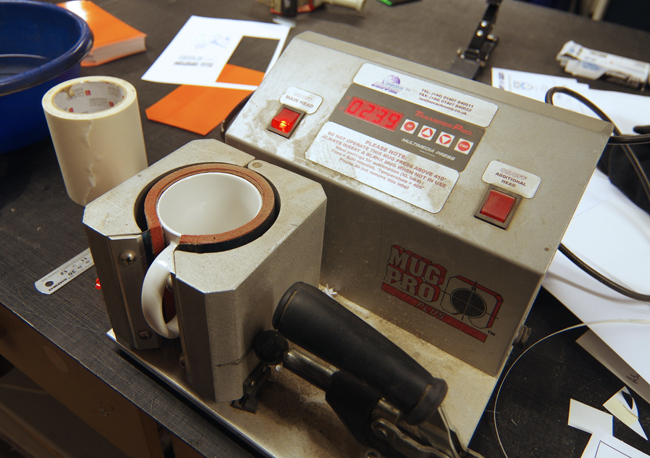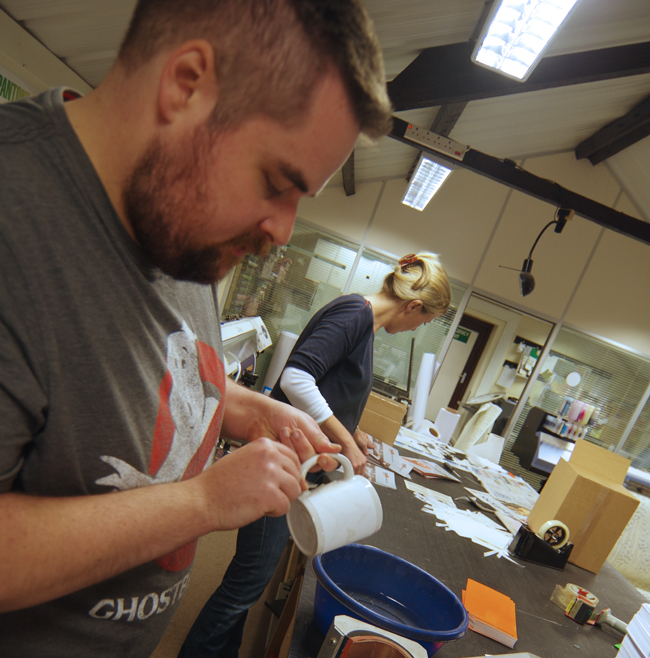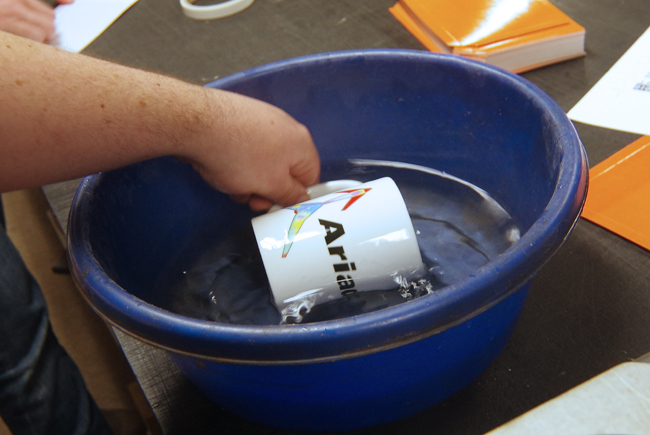 Good work that man. While we didn't snaffle any mugs for ourselves, we did get a marvellous heroic Playmonaut mousemat: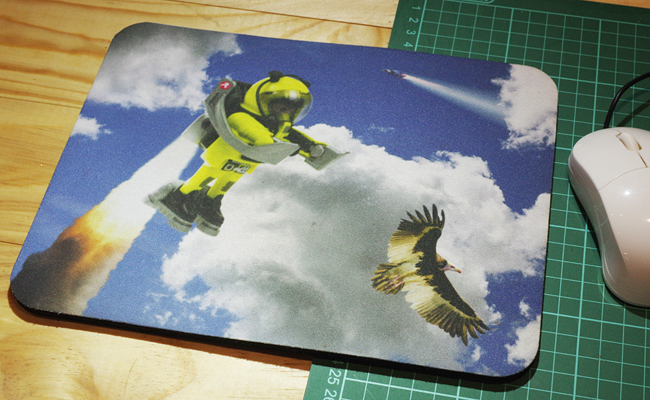 What we could really go for to complement that is a few mugs with the LOHAN logo wrapped around them, or perhaps a few SPB receptacles. Hmmm...
---
More from the lovely LOHAN:
---