Are you a Silicon Valley man-child, too distracted by the ethereal beauty of your last thousand lines of code, or too dependent on others to bring you stuff, to ever notice what you're actually drinking? Fear not. Rather than have to lift your head or sully your senses with the mundane world, you can now rely on the Internet of Things to pay attention on your behalf.
That's because this startup, Vessyl, had added a brand-new layer of "get technology to imitate my parents" to the Internet of Things, with a cup.
Ahh, but not just any cup. Vessyl is designed to fill the gaping hole in the lives of those who can't subtract 1AM from 8AM to work out they slept for seven hours, and who are so confused by choice they'd rather replace food with Soylent, by analysing and remembering what's been put in it.
Really. Vessyl's claim is that it can tell the difference between Starbuck's and coffee, between coffee and orange juice, orange juice and water, water and Budweiser. And it'll download that into an app in your phone so you don't have to try to remember whether that was your eighteenth coffee or merely your eighth.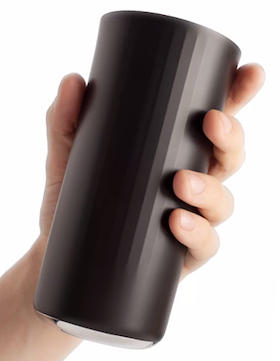 A parent in a cup: the Vessyl
For just $US99 (pre-order price) or $US199.99 (expected 2015 shipping price), it'll even track your hydration, based on the wellness urban myth that you have to drink "eight glasses of water a day" (here's a handy debunking, by no means the only one).
How does it do this? All developer Justin Lee would tell breathless The Verge was "we developed a sensor that could instantly analyse the nutritional content of what's inside a beverage … on a molecular level". Because it can't be proper IoT thing without an amazing sensors.
There's also an app based on a (naturally) "patented algorithm" to work out your minute-by-minute hydration level, even though Vessyl isn't also tracking how much you're excreting emitting.
And only a cynic would note that Vessyl will be reporting what its customers consume back to base for possible sale (in aggregated form, of course).
You could, of course, save money and just pay attention to what you're drinking. ®