In William Gibson's 1994 novel Virtual Light, one of the characters' cars features "an animated hologram of a waterfall on the hood."
Fast forward 20 years and Toyota might just be about to deliver: at the 2014 Tokyo Toy Show the company showed off a vehicle with a hood covered in LEDs. The hood was hooked up to cameras, beneath which kids were encouraged to thrust their drawings.
A click later and kids' scrawlings would be reproduced on a "screen" said to possess about 7,000 pixels, although the aspect ratio hasn't been revealed. Nor do we know if the hood is Portrait or Landscape.
The car concerned is a trade show staple Toyota has been showing off in various guises since 2012. The Camatte – a riff on the Japanese for "caring" - is an electric three-seater with interchangeable body panels.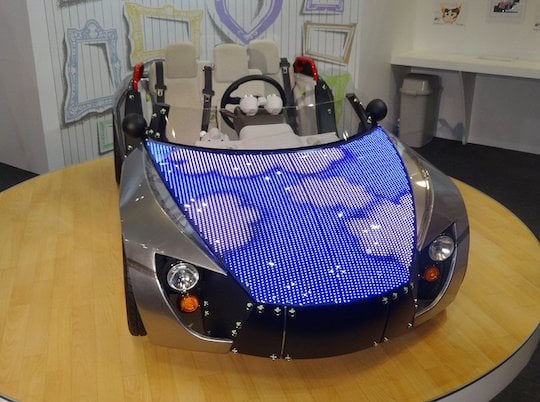 Even concept cars are headed for the cloud
As it's a concept car, there's no knowing of the Camatte is destined for production, more trade show thought-balloonery or, as is often the case, a test bed for ideas that eventually make it into production in unrelated vehicles. ®