HP faces down youthful tech upstarts: Don't judge us by our looks
Having a 'Benjamin Button' moment
HP Labs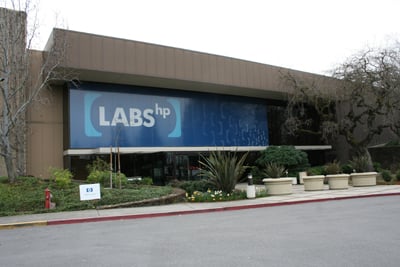 CEO Meg Whitman expects working tech from HP's boffins
So HP Labs has been rethinking the idea of the server and coming up with its two-to-five-year project around The Machine featuring Memristor tech, silicon photonics and a new operating system. This built on its 2012 nanocore idea. HP Labs is a product-focused research organisation that has come up with a few interesting things – including HP's object storage technology.
We could characterise HP Labs as being focused on a two-to-five-year technology development period. When a technology comes along such as Memristors (where work on the product started in HP Labs in 2003, 11 years ago), HP has struggled to bring the technology to market; we have seen repeated delays to the Memristor train's arrival in the station.
But HP Labs is more product-focused than IBM Research, which appears to have a five-to-20-year timeline for many of its activities plus a stronger focus on pure research with Nobel Prize-winning activities. This has not stopped IBM from having to make a string of technology acquisitions, including Diligent for deuplication, TMS for flash arrays and XIV for reliable storage arrays – in this respect it seems IBM Research could not devise the technology IBM needed.
Big Blue has Nobel prizes, has written its own name with individual atoms, and has floated high-end concepts involving heating Zurich suburbs with hot water circulated very cleverly through its mainframe computer cores. It's all deeply impressive, but not very useful in developing products to give it the lead in servers and storage.
As for HP Labs, is its operation fundamental to HP or is it merely a technology fashion accessory, a necklace that looks great as adornment but isn't fundamental to the body's operation?
At least HP can ask itself the question. Dell, with no substantial equivalent research effort cannot, and IBM has plenty of prized research but not a lot of product to show for it.
Our thinking is that Whitman reckons HP Labs has to earn its keep by developing technology from which HP can profit in its products:; technology for work, not for accolades.
Storage
HP storage fell behind as second generation SAN arrays like 3PAR, Compellent and so on came alive. The company bought LeftHand Networks for iSCSI Storage and then 3PAR, and worked out how to transition its mid-range EVA arrays to the technology. It recognised that it could extend 3PAR so that it could take on VMAX and obviate the need for OEM'ing USP and then VSP arrays from Hitachi. It also added flash to 3PAR to compete in the all-flash array market. But HP more or less missed the NAS/filer boat and the deduplicating backup to disk boat as well. It is recovering there now with its own in-house effort and has also developed its own object storage.
What is going on here is that the classic storage array duopoly, NAS and SAN, is splintering in front of our eyes: becoming unified NAS and SAN; NAS heads for SAN; deduplicating NAS and SAN; object storage; virtual storage arrays - HP was in early here with its P4000 VSA; all-flash arrays; hybrid arrays; big data storage; scale-out filers; file virtualisation; cloud storage gateways; and returning storage to servers with PCIe flash cards and flash DIMMs.
One-size-fits-all storage silos are fracturing into many different silos for different workloads as the storage world struggles to cope – on the one front with vast amounts of data, on the other with providing fast enough data access to keep virtualised, multi-core, multi-socket servers busy, and on a third with legacy storage compatibility.
The Memristor is HP's bet in the server fast data access stakes and, unlike competitors Dell and IBM, it is using its own technology.
Tape
HP is one of two lead players in tape, with fellow LTO consortium member IBM it has demolished the proprietary tape industry and managed the decline of its DAT technology. This was a mixed blessing as IBM devised the LTFS filesystem, providing easier ways to write and access data on tape. HP missed the deduplicating backup to disk bus. It didn't enter the the high-end tape library market, leaving it to IBM, Oracle and SpectraLogic.
Our perception is that it still has no compelling tape technology vision, other than business continuance. As its object storage technology evolves then this may change.
One view is that the entry-level and mid-range tape library market will be affected by disk-based object storage technology – speed of access is currently preferred over storage cost/GB – and that high-end tape libraries will remain strong because cost/GB is more important as storage heads up to exabyte levels. There s only one technology take-out candidate and that is SpectraLogic.