Fighting words from Asigra: Yes, backup vendors, we said it... commodity hardware
Buy our software package and we'll support your cheaper stack
Asigra has devised a server + storage configuration for cloud providers using its backup software that it claims is cheaper than Dell or HP kit.
It is essentially selling its backup software together with a promise to enable customers to buy a complete underlying software and hardware server, networking and storage stack, with Asigra supporting all the software and cutting their costs significantly.
Asigra can do this because it has a software-defined data protection architecture (SDDP) which "shifts control of the backup environment from hardware to software to remove physical cost limitations." In other words, customers can use commodity server/storage software and hardware and avoid paying any mainstream system supplier tax.
It has supplied example configurations to make its point. Here's an HP one that can run HP's backup software: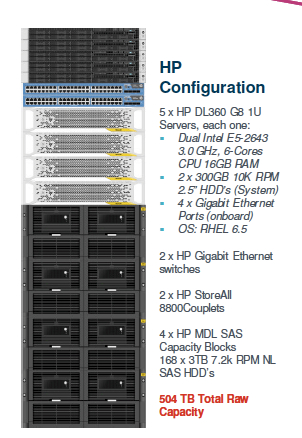 Asigra's example HP configuration
Then it redesigns the system to use purely commodity components, such as Supermicro servers to run Asigra's own backup software: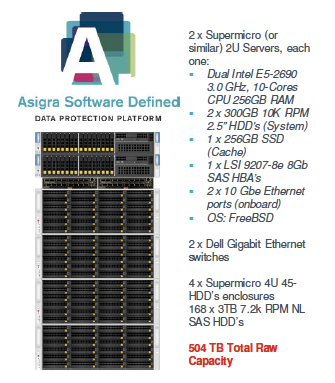 Asigra's Supermicro-based array
Note the server components are better-class. Where HP uses 5 DL360 servers with dual Intel 6-core E5-2643 processors, Asigra's configuration specifies two Supermicro servers with dual Intel 10-core E5-2690 processors.
Both configurations have 504TB of capacity, using 168 x 3TB drives spinning at 7,200rpm, and two gigabit Ethernet switches. The Asigra config uses FreeBSD software and ZFS, with Asigra providing support for both. It says it has lowered its partners' costs with its recovery-based licensing model
The overall idea here is to provide an Asigra stack from the disks at the bottom right up to the Asigra cloud backup software at the top with Asigra providing all backup support and so offering a lower cost alternative to using Dell or EMC or HP hardware. Typically, Asigra says, its kit will be as little as half the cost of a mainstream vendor's.
It says "Forthcoming solutions will optimise deployments in public, private or hybrid cloud backup installations across physical, data centre IaaS or 3rd party cloud environments."
Life in the cloud backup world for cloud service providers will be eased, Asigra says, because of:
Reductions in backup vault integration time from three to four days to one hour
Auto-configuration and deployment
Support for large data sets and file various sizes
Single pane of glass management
Multi-tenancy for telco-level scalability per account/multi-accounts
Phone/Web/On-premise service/support per agreement
100 per cent Asigra accountability and support for backup software stack
Push-button installation
Channel partners can feel the love here.
David Farajun, Asigra's CEO, said: "Our vision for a user-centric backup infrastructure is one that disintermediates expensive storage software stacks that are coupled tightly with expensive hardware. This provides a software defined option for service providers that helps to further control backup infrastructure costs and management concerns."
Asigra says its SDDP, aligned with Asigra Cloud Backup, will be a free download at no cost to Asigra partners. It is, it says, "already engaged with multiple prospective OEM system vendors who are interested in offering SDDP to drive sales of their component hardware products." There's nothing to buy yet though.
You can hear more if you attend the Asigra partner summit taking place in Toronto, Canada from 16 to 18 June. ®