'Cortana-gate' ruins Satya Nadella's Microsoft honeymoon
NO WAY are you putting it on iOS and Android, screech commentards
Analysis It looks like Satya Nadella's honeymoon as Microsoft CEO is over, and it happened during what's already being called "Cortana-gate" by Redmond's own commentards.
Smart and decisive, Nadella has enjoyed good press and huge support within Microsoft. But his instant response to the many strategic issues bedevilling Microsoft - issues no one can answer overnight - was a clumsy compromise.
This began to unravel last week when a manager for Microsoft's new voice assistant Cortana mused that the service could wash up on iOS and Android, where it would compete with other cloud-based assistants, Apple's Siri and Google Now.
These comments were sensible, consistent and uncontroversial - so uncontroversial in fact, that most technology sites felt they didn't merit a story. If Microsoft wants its cloud to succeed, it needs to make its best technology available to the largest number of users. Most of the mobile hardware in the world runs on iOS and Android; Microsoft has already put Office and services like Bing on the iPad and Android, so why stop there?
However, the musings caused great dismay amongst the fiercely loyal owners of Microsoft phones and tablets. If you're the owner of a Windows Phone – and you're not a journalist or a hipster – you're already a bit special. If you're the owner of a Surface, then you're very special indeed. Suddenly the prospect of the well-received Cortana running on Android made them feel very unloved.
Why, they wondered, have we put up with the pain (of a relatively poor app choice) for years with Windows Phone, when we can't have exclusive bragging rights over goodies like Cortana, they fumed. We've made a choice that invited us to ridicule - the word Microsoft wasn't the coolest brand in consumer goods - we've been loyal, so why hasn't Microsoft reciprocated our loyalty?
A few other gripes were undoubtedly mixed into the Cortana rage. Windows Phone was the most un-Microsoft-like product Microsoft had ever produced - now it feels much more like what you might expect those product committees to produce. Windows Phone 8.1 doesn't have quite the polished or personable quality of its predecessors, which were designed solely for the consumer market. Worse, it's already shipping (in the Lumia 630) when it still isn't finished.
Prodded, no doubt, to clarify upon his original remarks, Marcus Ash, who is the group program manager for Cortana on Windows Phone, merely re-emphasised the point.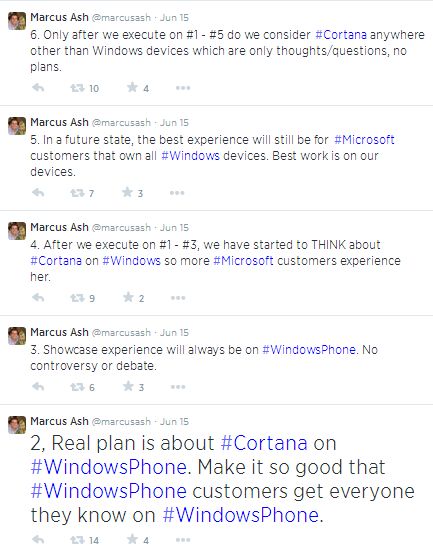 An explanatory TweetStorm
The problem that "Cortana-gate" highlights is that it shows up Nadella's sticking plaster slogan - "Cloud First Mobile First" - as a fatally ambiguous fudge. Which is really first: cloud or mobile? The answer is always "both", but this makes no sense when tough decisions must be made. Imagine if the official advice to learner drivers was: "Mirror First, Signal First". Which is it?
The slogan needs to be retired, and a coherent strategy must replace it. Will Microsoft become a cloud platform? If so, it must make its cloud the most attractive. Azure has already done phenomenally well - shooting to No.2 in the market and enjoying the fastest growth of the Big Five, largely thanks to Nadella's shrewd and un-dogmatic decisions.
So where does the boutique hardware, like Surface or the old Nokia division, fit in? Nadella was known to be critical of the Nokia phones unit acquisition. And if, at the third attempt, the numbers for Surface don't show some improvement, there's little point continuing with the vanity venture.
These are the big questions that were being asked while Ballmer was in charge – with the key query being: "What business will you be in a few years?" Becoming a cloud champ is plausible, becoming a consumer electronics champ, less so.
The questions died down for a while after the dynamic new CEO took charge. But now they're unavoidable - and Nadella needs to have his answers ready... soon. ®