This article is more than 1 year old
ISIS: Iraq KILLS the INTERNET: VPNs, social media and chat apps blocked by government
If you can't beat 'em, gag 'em
Iraq has widened its internet ban to include virtual private networks and mobile data in a bid to halt the progress of brutal offensives in the country led by the extremist militant group calling itself the Islamic State of Iraq and the Levant (Isis).
Described as "fascist" and "criminal" by Jon Snow of Channel 4 News, Isis has been using social media to broadcast horrific images of mass executions and other barbaric war crimes. It now controls much of Iraq and is closing in on its capital, Baghdad.
A reader pointed us towards a translation of a shutdown order posted on the Iraqi Ministry of Communications' Facebook page.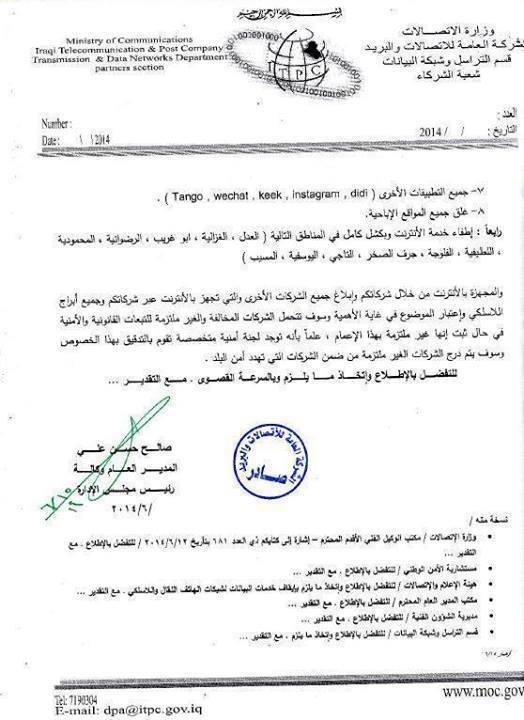 According to the translation, internet services will be shut down across much of the country.
The Ministry of Communications wrote:
"Due to the current national security concerns and the exceptional developing situation in our beloved country, the national security advisory board has decreed the following:
Firstly, stopping all Internet services completely and absolutely for the districts of Nineveh, Al-Anbar, Saladin, Kirkuk, Diyala.

Secondly, stopping all access to Virtual Private Networks (VPN) in all of Iraq starting at 4:00PM and until 7:00AM daily.

Thirdly, stopping all access to the following Internet applications in all of Iraq: Facebook, YouTube, WhatsApp, Viber and Skype.
Commenting on an earlier story about an internet shutdown, a Facebook spokesperson said yesterday: "We are disturbed by reports of access issues in Iraq and are investigating. Limiting access to internet services - essential for communication and commerce for millions of people - is a matter of concern for the global community."
The internet ban is designed to stop Isis minions from communicating with each other and is also aimed at hobbling its propaganda machine.
Foreign Secretary William Hague has estimated that around 400 Britons are already p fighting as part of the militant group. With additional reports of children fighting alongside adults, the Iraqi government will be keen to cut any connections Isis has to the outside world. ®