Crucial MX100 256GB SSD: Cut-throat competition in flash land
Keenly priced sweet-spot storage
Review Micron subsidiary Crucial has caused huge waves in the consumer SSD market with its low-cost M500 drive range – and then gave its competitors further aggravation with its M550 series refresh this year. It's only been about three months since the M550 launch but Crucial is back with a new range of drives to cause further mayhem, in the shape of the MX100.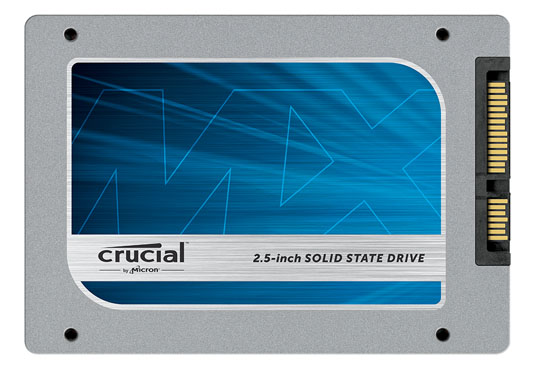 Crucial eats away at SSD prices yet again with the MX100
At launch the MX100 family comprises just three capacities: 128GB, 256GB (my review model) and the flagship 512GB. Unlike the last two series of drives there isn't a 1TB (or near 1TB) drive, so if you want a Crucial drive above the 512GB mark you'll have to find a M500 (960GB) or a M550 (1TB).
With the MX100, Crucial is firmly aiming at the consumer market as very large capacity SSDs are still considered something of a niche. Hence, the company sees no need to have a mega drive in the MX100 range, even though it is regarded as the M500's successor. The new range will not only cause pricing problems for the competition, but, it has to be said, Crucial's own M550 range as well.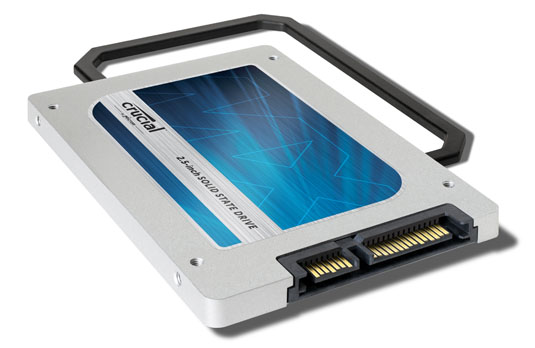 Spacer provided to bridge the gap in some laptops storage transplants
At launch, the entry level 128GB drive costs £56, a mere three pounds more expensive than the outgoing M500 120GB drive and a tenner cheaper than the equivalent M550 drive. The middle of the range 256GB MX100 costs £80, a fiver cheaper than the 240GB M500 and an impressive £30 cheaper than the 256GB M550. The flagship 512GB MX100 continues the trend and at £159 it's £12 cheaper than the 480GB M500 and an amazing 50 notes cheaper than the 512GB M550.
The reason that Crucial can get so hardcore on price is that the new drives use the latest Micron 16nm MLC NAND which is cheaper to produce than the NAND in both the M500 and M550. How so? It's because of the smaller process. The new NAND is architecturally the same as the companies 20nm MLC with the same 128Gbit density, but with a die shrink which allows Micron to get nearly 6TB of storage per 300mm wafer as opposed to the just over 4TB using the 20nm process.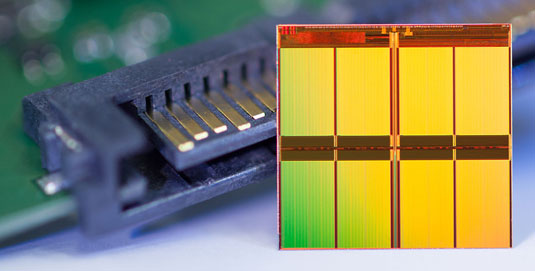 Cost saver: a smaller die size gets more chips per wafer
Once inside the drive you could be forgiven for thinking that you've opened a M500 by mistake as the PCB looks identical. In fact, the only change is the NAND type, as the MX100 uses the same eight-channel Marvell 88SS9189 controller as the M550. To get to its 256GB capacity, the drive uses 16 x 16GB NAND modules, eight per side of the PCB.