YouView loses YourView trademark fight, may have to pick new name
So, this is all going really well
The £100m BT and TalkTalk-backed set-top box venture YouView™ may be forced to change its name after losing a trademark scrap today against Cheltenham-based telecomms provider Total.
The latter had registered the trademark Your View™ for its billing platform – which it advertises here – before BT and TalkTalk had registered the moniker for the internet television service.
Under trademark law it isn't necessary to produce confused punters as evidence – merely that they could be confused.
"If YV uses its 'youview' sign as it has been and is doing, it is likely that the average consumer will be confused in relation to the origin of the goods and services being offered to them. YV's actions are thus liable to have an adverse effect upon the functions, including the 'essential function', of Total's trade mark," Justice Sales concluded in his ruling.
"Total will now be seeking an injunction against YouView to prevent any further use of the name 'YouView', together with financial payment and legal costs, among other remedies," the company said in a statement.
Total filed the YourView trademark in June 2009 under three classes, including database management and telecomms services, and the application was granted the mark in November 2009. YouView only applied for the YouView trademark in April 2010.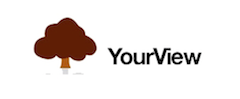 The YourView trademark was granted in 2009
In May 2012 a court (PDF) fined YouView £1,200 and on appeal, the High Court dismissed YouView's appeal.
Justice Sales said he was aware of "potential dangers" if "excessive protective effect" were given to trademarks, but didn't believe this was applicable in this case. He said Total had acted in good faith to protect its mark, and its application had preceded that of YouView by months.
YouView would have been aware of Total's YourView trademark when it applied as trademarks are easily searchable online, but evidently didn't think it would be a problem. ®