Yahoo! is the latest web giant to reveal figures on the diversity of its workforce.
The Purple Palace published the report online on Tuesday, breaking down its employees along both gender and ethnicity lines in its tech, non-tech and leadership divisions.
Much like Google, Yahoo! has fielded a workforce which is, by and large, male and either white or Asian. The company reported that its global operation was 85 per cent male in tech positions and 15 per cent female. Women accounted for a larger share of non-tech positions, with 52 per cent of roles.
Despite having Marissa Mayer in the CEO chair, the company's leadership (vice president roles and higher) remains largely male at 77 per cent.
At its US offices, Yahoo! reports that 50 per cent of its employees identify as white and 39 per cent as Asian. Hispanic employees make up 4 per cent and black and multiracial workers each accounted for 2 per cent.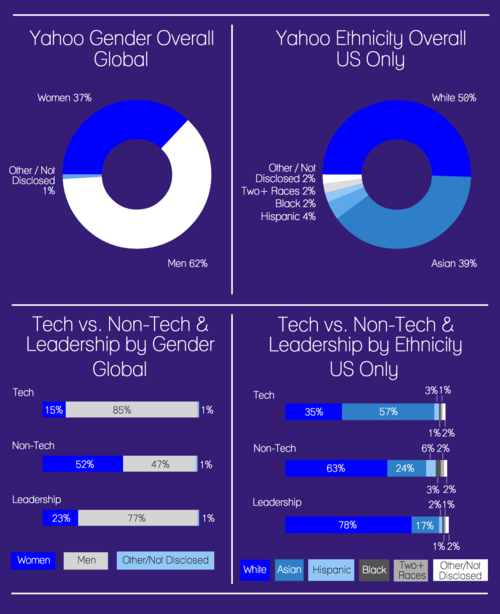 What's it like in the Purple Palace ... stats from the report (Credit: Yahoo!)
Among Yahoo!'s leadership ranks, 78 per cent identified as white and 17 per cent Asian. Asian employees account for 57 per cent of tech jobs with whites at 35 per cent.
The numbers at Yahoo! bear a striking resemblance to those at Google, which claims that men account for 70 per cent of its total workforce and 79 per cent of leadership roles. Much like Yahoo!, Google counts most of its female employees in administrative "non-tech" job categories.
The lack of women in technical and management roles has also carried over into the startup sector, where researchers estimate as few as two per cent of firms are headed up by women.
"These statistics are only a part of the story - Yahoo! works to ensure that our existing employees feel welcome and supported during their time at the company," wrote Yahoo! chief development officer Jackie Reses.
"We have a wide range of Employee Resource Groups that serve people of diverse backgrounds and are highly engaged in their respective communities." ®