Images of Britain's breakfasts failed to make their way onto the internet this morning after Facebook collapsed, sending the interwebs into social media withdrawal.
Anyone visiting Zuck's site was shown the following message: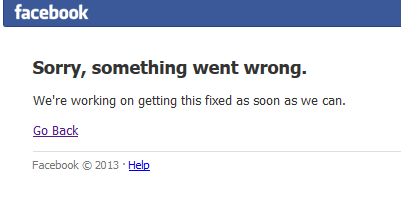 Distraught Facebookers resorted to social media methadone - or Twitter, as it's otherwise known - to make sure the world knew about their anger.
Some twits suggested the problem was due to an Anonymous DDoS attack, although this cannot be confirmed.
Here's what Twitter is saying about the shutdown:
#FacebookDown facebook is down we are investigating the reason it might be a DDoS by Anonymous as last time they launched the largest DDoS

— ArabCrunch (@ArabCrunch) June 19, 2014
Reports @facebook experiencing problems at the moment. Sure a helpline for Candy Crush Saga fans is being set up as we speak .#Facebook

— ben turner (@BreakyWakey_Ben) June 19, 2014
oh! let's start the rumor that #facebook shutdown to prevent wikileaks from publishing data about them! probably not true, but a fun lie.

— Meadhbh Octopodidae (@OhMeadhbh) June 19, 2014
Welp, facebook is dead. The world is a better place now.

— Brandan Lasley (@brandantl) June 19, 2014
Are you worried about Facebook's demise? Virgin Media is here to help.
There appears to be a problem with Facebook at the moment. If you need help and support we're live on twitter until 10pm.

— Virgin Media (@virginmedia) June 19, 2014
Are you affected? Is this best thing to ever happen to the internet? Let us know. ®