This article is more than 1 year old
Sonos Controller app update conflict
Some users are revolting
Sonos users are a picky bunch. The latest Sonos Controller app is attracting some strongly negative reactions amongst its customers – yet more users like it than dislike it.
Sonos Controller v5.0 runs on smartphones and tablets, streaming music stored on them or from internet music-streaming services like Spotify, Google Play and Shuffler.fm, to Sonos speakers in the home using the Sonos wireless network.
V5.0 was introduced in May and negative opinions quickly appeared in the Sonos user forums, commenting on things like how "it has made commonly used actions into actions requiring multiple page swipes/ taps etc…" and represents, as one person told us, "form over function basically."
Several sources around the internet are complaining about Sonos' latest offering, including the official Sonos Forum's own general discussion threads, the Ask.Sonos request facility and in iTunes store reviews for the Controller app.
One Sonos Forum General Discussion thread runs to seven pages of comments and includes a poll on the new UI:
62 out of 204 voters prefer it to v4.3: that's 30.4 per cent
30 don't care one way or the other: 14.7 per cent
112 want the old v4.3 app back: 54.9 per cent
(all figures recorded at the time of writing)
An official Sonos rep on the thread, John M, posted this comment in late May:
We are listening to your comments and appreciate the feedback. We don't want anyone to feel ignored, all replies here are read, even if we don't always respond. There are several places where people are talking about the new app, and we are following all of them to make sure that we know what people want to see in future releases.

We will not be re-releasing the old version of the app and are aware that while some people love the new controller, others do not. The Sonos Controller experience will continue to evolve, however the new design and modular interface are here to stay. We are always striving to enhance the Sonos experience, including the controller app. We invite your constructive feedback as we look to future developments.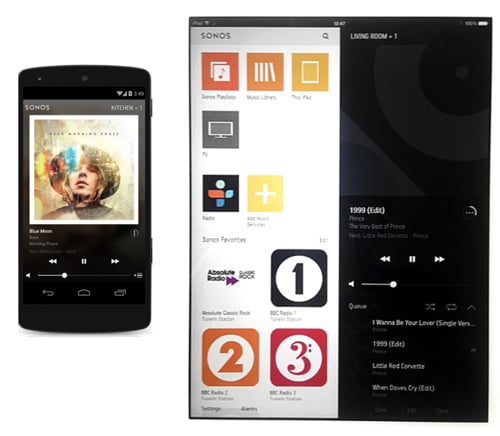 V5.0 style app on an Android smartphone
A week later another Sonos rep, Ryan S., posted this:
"We know it's been a little more than a week since the last official post here so we just want to let everyone know that we are listening and take all feedback and criticism seriously. While we're sure you want to know what's next, we don't have any additional details to share at the moment. When we do, you'll all be among the first to know."
The separate Ask.Sonos facility has three threads complaining about the new app, one entitled "Don't Like The New App" started a month ago, which has 150 comments.
User gbastug posted the first note, which included this gem: "The new app is horrible...it is the classic error of form over functions, graphic designers with no human interface skill sets making pretty decisions."
Many subsequent posts supported this general point of view.
Sonos rep Ryan S posted a response about a month ago, saying: "Thank you for continuing to share your reactions to the new Sonos Controller. We've heard a lot of positive comments on the new design over the last week but also some critiques. We're listening, and it sounds like many people have similar comments and suggestions which we'll be organising into separate threads."
"Specifically, we've heard the most feedback for the following:
An optional text view for sorting through library
Rooms listing on tablets/landscape view
Show a "Rooms Icon" across all screens to provide easy access to room grouping
Different placement of the queue
Move crossfade to the same area as shuffle & repeat
Add a volume slider to full screen album art view
Track Progress Bar
"We want you to know that your feedback is being heard. We'll continue to keep these threads organised to facilitate constructive discussion and will pass this information on to the Sonos Product teams."
In an answer to another poster he said: "To be clear, we have no plans to reintroduce the previous version of our Controllers. In addition to criticism, we've also received a lot of positive feedback on the new Controller from people who are pleased with the change. As always, we take everyone's constructive feedback seriously."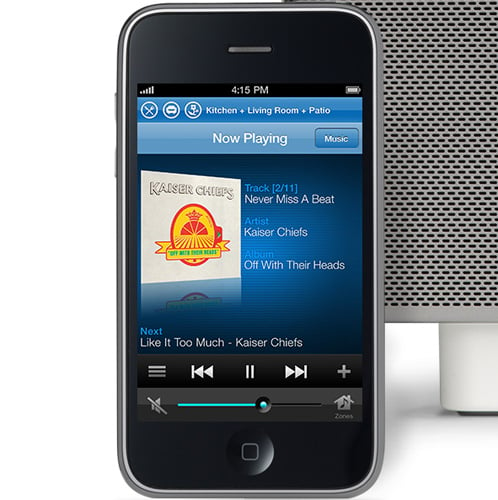 The v4.3 style app
Comments on a Sonos blog about the new controller app total 130 and are mostly negative. Poster JorBru said: "With respect and affection for the Sonos team, I have to say the latest app update is really awful. Deeply disappointed in the direction it has been taken."
Poster cearnsh commented: "On a tablet, how can it be 'more intuitive' to turn over 2/3 of the screen to huge ugly icons without enough text to distinguish between them, and hide away important functionality that used to be there on the front page behind buttons, pulldowns etc?"
Reg reader Michal went against the flow: "The new app is beautiful and a lot more functional. Thanks Sonos Team!"
Others wanted Windows Phone supported as well as iPhone and Android mobes.
On Apple's iTunes store the controller app has been rated 829 times and has, at the time of writing:
346 x 5-star ratings
123 x 4-star ratings
67 x 3-star ratings
98 x 2-star ratings
195 x single star rating.
This is a fairly polarised set of results but, overall, more people give it positive reviews than negative ones. It indicates the difficulty of Sonos' problem. More users like the new app than dislike it but, as well all know, negative feelings excite more blog and forum comments than positive ones.
Sonos did all the controller app beta testing on Android alone and not iOS. That, while understandable from a resource and user base point of view, ignored Apple users who are likely to prefer a cooler and more elegant interface, and be particularly upset at the infelicities of the iPad version, infelicities which we pointed out here. Also the new app abruptly ended support for first generation iPads.
The company is saying it's taking comments seriously and listening to its users but, understandably, does not want to support two different controller apps. The previous one will not be reintroduced.
The general perception amongst Sonos critics is that Sonos has been arrogant and, with regard to tablets, quite inept. The v5.0 update is not a disaster but Sonos has failed to carry a significant proportion of its user base with it and needs to improve the table appearance and functioning of its app fairly quickly.
We reached out to Sonos but the firm has been unable to respond. ®