Bankers bid to use offshore temp techies
WikiLeaks publishes Financial Services Annex to 50-nation Trade in Services Agreement
---
Financial services organisations could parachute IT staff in wherever they please instead of employing locals, under provisions of an annex to the Trade in Services Agreement (TISA) revealed today by WikiLeaks.
TISA is a trade agreement aimed at making it easier for service providers to access foreign markets. But the Financial Services Annex (PDF), which WikiLeaks says is secret, contains some un-nerving provisions.
There's broad concern about the document's suggestion that financial services organisations should enjoy unrestricted access to TISA signatories' markets. Reg readers may also be worried by Article X.9, titled "Temporary Entry of Personnel" as it provides that parties to the treaty "shall permit temporary entry into its territory of … (i)senior managerial personnel possessing proprietary information essential to the establishment, control and operation of the services of the financial service supplier; and (ii) specialists in the operation of the financial service supplier. specialists in the operation of the financial service supplier."
That sounds an awful lot like a provision to parachute in IT staff, rather than hiring locally.
Article X.9 is proposed by the European Union (EU), so a kinder interpretation is possible given the EU is keen on open borders. And Australia has added an amendment suggesting the Article be "Subject to any terms limitations, conditions and qualifications that the Party shall set out in its Schedule," which suggests parties to the treaty will be able to regulate the kind of folks allowed temporary entry."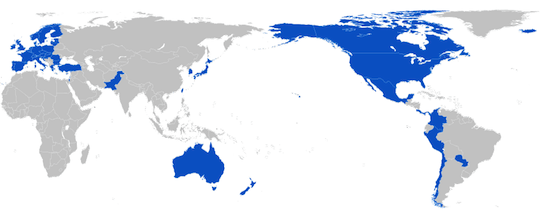 Nations negotiating the Trade in Services Agreement
As the map above shows, 50 nations are negotiating TISA.While nations noted as sources offshore IT workers aren't included, it's not hard to imagine a financial services organisation could consider creating expert teams in a lower-wage nation and using the Agreement's provisions to parachute them into higher-wage nations.
The Agreement does not, as yet, specify term limitations. Let's hope future versions of the Annex make them short, shall we? ®