Gartner has produced a new and intriguing magic quadrant diagram for converged server/storage and networking systems - which it calls integrated systems. The leading supplier is VCE, the Cisco/EMC/VMware ménage-à-trois love child, closely followed by the Cisco-NetApp FlexPod system and also Oracle with its engineered systems.
Apart from Teradata everyone else is an also-ran, either niche players or challengers, as a quick perusal of the box will show: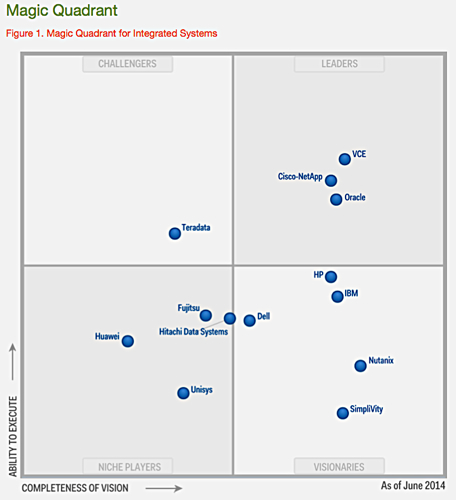 Gartner Integrated System Magic Quadrant
Simplivity, a visionary, told us a few things about this Gartner opus:
"Integrated systems will account for more than 10 per cent of spending on data centre systems by 2015," which will total $147 billion in 2015, meaning an at least $14.7 billion spend on integrated systems.
The main drivers encourage integrated systems use are "improved performance, perceived lower operating expenditure costs and greater IT optimisation, increased automation, simplified sourcing and support, faster time to value with infrastructure, and support in moving from IT maintenance to IT innovation."
Get the Magic Quadrant Report for Integrated Systems here (registration required).
We did and it's well worth a read. ®
Similar topics