For one night only – Ibsen classic gets the Dolby Atmos treatment
Immersive surround sound tech has its theatrical debut
The last time I sat in Dolby's private Atmos theatre in London, I was treated to the audiovisual feast that is X-Men: Days of Future Past. This time around, the production values are very different.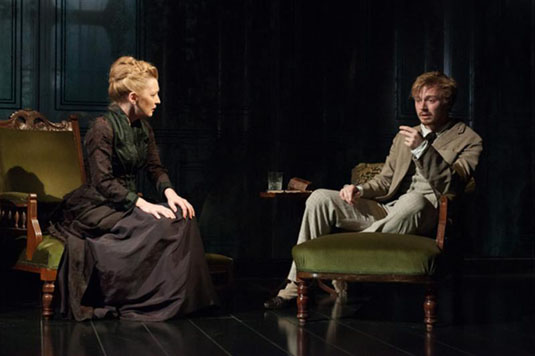 Lesley Manville (Helene Alving) and Jack Lowden (Oswald Alving)
Photo courtesy of Hugo Glendinning
In fact, nothing could be further from the sci-fi action flick than this five-camera shoot of the Almeida Theatre's award winning London stage production of Henrik Ibsen's Ghosts.
This is a romp of a very different sort: a Victorian era social commentary with various ingredients including secrets and lies, philandering and unrequited love, a bit of the old incestuous allusions and, of course, a healthy dose of syphilis.
Although it was written in 1892 and performed the following year, all assembled in June 2014 were to witness a first of a first. Namely, the very first showing of the first theatrical production to be screened with accompanying Dolby Atmos audio – a full-range, multi-speaker cinema sound array, which, by featuring height information in its spatial positioning recreates a three-dimensional sonic environment.
From 26 June, Ghosts is playing for one night only in 250 cinemas around the UK and Ireland with or without Dolby Atmos. And if you're in Oz, there are viewings on 28 and 29 June. This event has been co-ordinated by content distributor CinemaLive with some screenings happening later, a case in point being the 10 July presentation at the Olympic, the Atmos cinema in Barnes, London.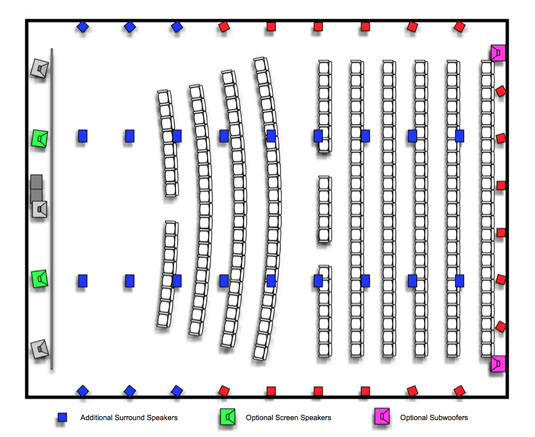 Typical Dolby Atmos configuration for a cinema upgrade
Since its launch in 2009, Digital Theatre has been busy creating cinematic productions of acclaimed stage shows – besides West End and Shakespearean theatre, opera and ballet have proved immensely popular. It even collaborates with the British Library.
Much like recording a band playing a gig, the concept is that theatre-goers can relive the experience they enjoyed and those further afield (or with not-so-deep pockets) can get an idea of what the fuss was all about. You don't have to rely on a cinema either, as Digital Theatre productions can be purchased or rented on-line.
The marriage of a Dolby Atmos soundtrack with the screening of Ghosts seems more experimental than a must-have enhancement, but the idea is to deliver an immersive experience. The old adage goes along the lines of: if you didn't notice the sound in a film production, then that's a good sign. After all, if you're not distracted by it, then it must be convincing and suggests there's nothing wrong with the mix.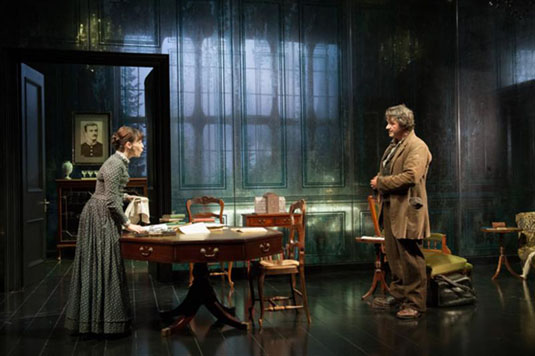 Best seat in the house? The set doesn't change but the camera angles do
Charlene McKenna (Regina Engstrand) and Brian McCardie (Jacob Engstrand)
Photo courtesy of Hugo Glendinning
Sitting there, I was more distracted by how little the sound designers had to work with – five actors and a static set. The camerawork does add alternative positions though. The picture itself is not just one camera pointed from the best seat in the house towards the stage. Five cameras were in use and so you've shots from different points of view in the edit. Not quite cinema and not quite the stage either. What to call this mix of film and theatre? Filtre? Cineatre? Theature?
Those different viewpoints do at least offer some creative mixing opportunities. Each actor had a radio mic hidden in their hair or behind the ear and there were 16 mics on stage plus "snoop" mics here and there to pick up actors' movements and prop interactions.