The show must go on
Mixing on Dolby Atmos treats the sounds sources as objects that are then positioned in a 3D soundspace which can be rendered back onto any Atmos cinema regardless of its size or whether it has an array of 30, 60 or 120 loudspeakers or more.
Besides a huge step up in clarity – Atmos doesn't bear the compromises in frequency response found in earlier surround formats – what you also get is the ability to accurately position sound sources. In the case of Ghosts, there wasn't anything in particular to notice, apart from its impression of realism.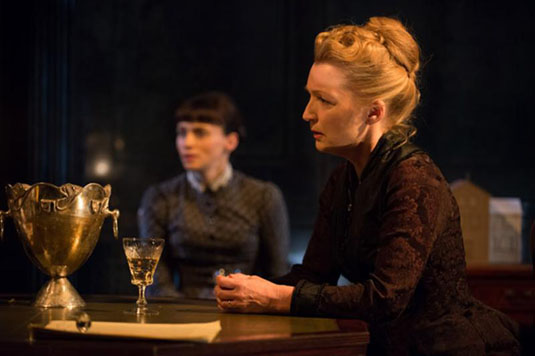 Sound positioning matches the spatial location of the actors
Photo courtesy of Hugo Glendinning
Rather than sound being a matter of panning across the stage to follow movement, more subtle positioning of front and behind, when the actors were engaged in dialogue, was apparent. Still, you had to listen out for it as these are mixing nuances that are designed to sound natural. Indeed, the off-stage noises of footsteps down the stairs and then out of the front door were presented with gratuitous spatial authenticity.
Authenticity presents itself in other ways too, as there's no director shouting "Cut" if a shot wasn't perfect. That said, three performances were recorded all in front of live audiences at Trafalgar Studios, which is actually a theatre, not a TV soundstage. You'd even hear the audience laugh in places, which was like being amongst ghosts of a different sort. It was perhaps the most unreal aspect, especially as I didn't hear any coughing.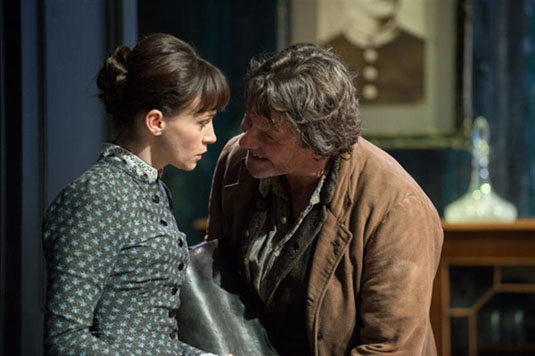 Charlene McKenna (Regina Engstrand) and Brian McCardie (Jacob Engstrand)
Photo courtesy of Hugo Glendinning
What you could hear from time to time was some low-level hiss from the microphones. Removing or "gating" noise in silent passages with a now you hear it, now you don't approach, can be more noticeable than simply leaving it in there. The prevailing wisdom on this production was to let it be, as it's not especially obvious. The audio itself was fed through an Allen and Heath iLive console and captured on a SADiE multitrack audio recorder.
The video recording included three 4K cameras although Ghosts is only a full HD release. The stage lighting appears to have been presented unaltered and this did lead to some burn out on features such as foreheads and hands. A somewhat dark and dour set, with costumes to match, evidently proved to be a dynamic range challenge for this 1080p presentation.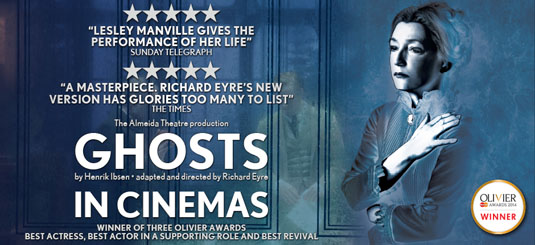 Yet what lingers most in the memory of this stage and screen experience is the play itself and the performances of the cast. Ghosts will never have an audience rolling in the aisles, but as a bold statement of its time, it does make a lasting impression. That's more than can be said for many movie I've seen lately.
Admittedly, it's no substitute for the smell of the greasepaint and the roar of the crowd, but if cinemas are willing to make space for one-night-only presentations of theatreland's finest hours, surely that can only be a good thing, both artistically and culturally. ®