This article is more than 1 year old
Higgs boson even more likely to actually be Higgs boson - boffins
They're here, they're real, they're staying, declares MIT
Boffins are becoming increasingly hardline in their stance on the particle discovered in 2012 and lauded as the Higgs boson. They say it is, in fact, the Higgs boson and not something else.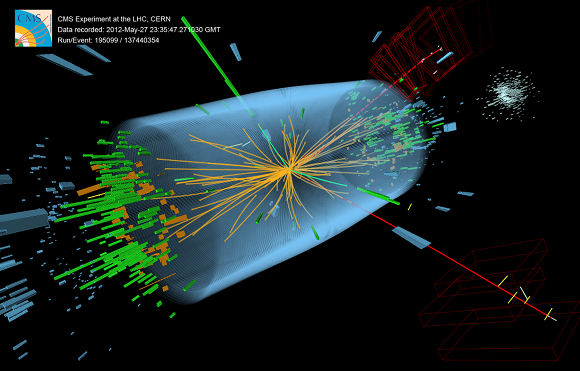 Researchers have discovered that the bosons decay into fermions, which are a group of particles that include ones like leptons and quarks. That's a good thing because it's exactly what the Standard Model of particle physics predicts the Higgs boson should do.
"This is an enormous breakthrough," said Markus Klute, an assistant professor of physics at MIT and leader of the international group of boffins. "Now we know that particles like electrons get their mass by coupling to the Higgs field, which is really exciting."
Preliminary studies hinted with a fair amount of certainty that the particle spotted by the ATLAS and CMS experiments at the Large Hadron Collider two years ago had properties consistent with those predicted for the Higgs boson. Looking into the data produced by the CERN experiments has shown that like the expected boson, the new particle has no spin and rapidly decays by splitting into pairs of photons, W bosons or Z bosons.
Since it was also observed in the mass region of 125 to 126 gigaelectronvolts (GeV), physicists have been feeling pretty good about planting the flag for a Higgs of some description.
But the work doesn't stop there. Scientists always like more evidence for a start, but they also need to know just what kind of Higgs they're looking at. For example, there could be a single Higgs boson or there might be a group of many different kinds of Higgs particles, depending on different extensions of the Standard Model.
"What we are trying to do is establish whether this particle is really consistent with the Higgs boson, the particle we predict in our Standard Model, and not one of many Higgs bosons, or an imposter that looks like it but has a different origin," Klute explained.
One way to do this was to establish whether the new particle could also decay into fermion pairs. To do this, the team from the CMS Collaboration, which includes boffins from Imperial College London, Ecole Polytechnique in Paris and the University of Wisconsin, fired protons at each other in a six metre diameter solenoid and used special detectors to see the particles produced in the resulting collisions.
They were looking for particles called tau leptons, which have a mass of around 1.7GeV, making them 3,500 times heavier than an electron and easier for the boffins to spot. The team was able to confirm the presence of decay to tau leptons with a confidence level of 3.8 standard deviations – in other words, a one in 10,000 chance that the signal they saw could have turned up without Higgs particles.
"We have now established the main characteristics of this new particle, in its coupling to fermions and to bosons, and its spin-parity structure; all of these things are consistent with the Standard Model," Klute said.
Just to make extra sure though, the team plans to up the confidence level of the finding to five standard deviations, or a one in two million chance, once the LHC starts particle collisions again next year.
"Within the current level of precision there is still room for other models with particles that look like the Standard Model Higgs, so we need to accumulate more data to figure out if there is a deviation," Klute said.
"Although if we do find a deviation from the Standard Model, it is likely to be a very closely related one," he added. ®